Colorado is home to some of the most scenic and relaxing cabin, hut, and yurt rentals in North America. From basic accommodations set in majestic state parks to luxurious cabins located in posh mountain towns, there's a lot here to choose from –too much, in fact.
To help you choose your next cabin rental, we've compiled a list of options sorted by category. This list would be far too long to be useful if we included every rental available through each category, so to help you narrow down your choices we're only including highly rated and notable options.
Federal Lands and State Parks
National parks such as Colorado's Rocky Mountain National Park and the Great Sand Dunes National Park and Preserve don't offer cabin rentals within official park boundaries, but there are plenty of solid options close by. National forests and state parks are a different story with most offering an array of excellent state-managed cabin rentals within their boundaries.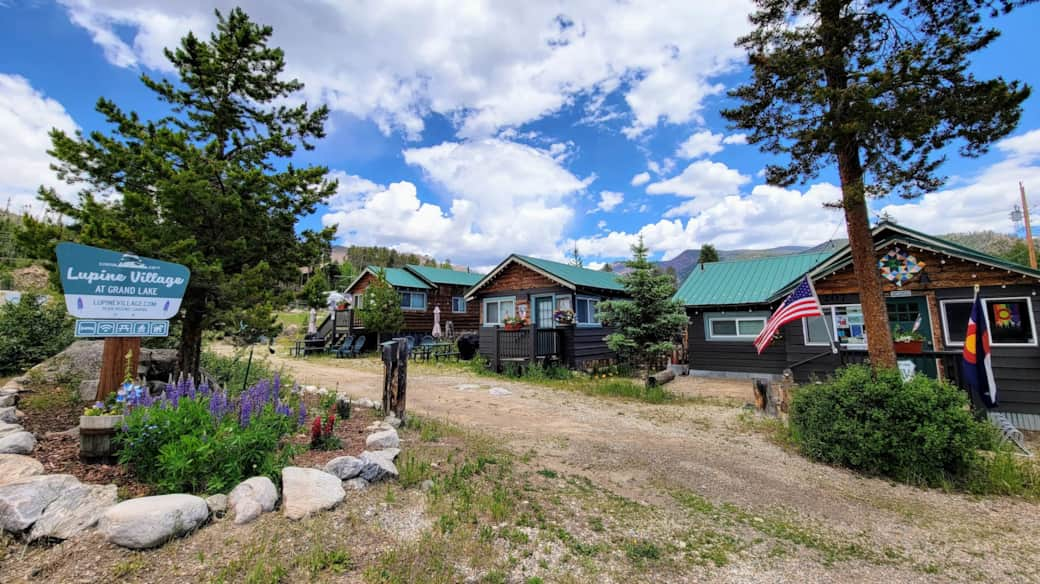 Lupine Village near Rocky Mountain National Park. Photo by: Lupine Village
Great Sand Dunes National Park and Preserve
If you're looking for a rustic cabin experience without straying far from the dunes, Oasis Camping Cabins are located just south of the Great Sand Dunes National Park entrance. These cabins are extremely primitive but are also affordable and provide quick and easy access to the park.
Rocky Mountain National Park
There are far too many cabin rental options to list located near Rocky Mountain National Park, however, there are a few standout options worthy of mentioning here. Lupine Village is located at the south entrance to the park in Grand Lake and features affordable cabins with cozy mountain trappings as well as speedy broadband internet.
If you're traveling with a bigger group and are looking for something more luxurious, this spacious Estes Park rental located near the park's northern entrance boasts a hot tub, wrap-around deck, gorgeous mountain views, and easy access to the Big Thompson River for fishing.
Mesa Verde National Park
Located 15 minutes from Mesa Verde National Park, the Starry Night Ranch's Cowboy Cabin delivers an authentic mountain experience that looks and feels how staying in the mountains probably did more than a century ago. Featuring an old wood stove, rustic wooden furniture, and an incredible view of Mesa Verde, this affordable rental sleeps up to six.
Another well-reviewed local option is the cabins at Willowtail Springs, which guests describe as peaceful and resembling something out of a fairy tale. It can accommodate up to 4 guests.
Black Canyon of the Gunnison National Park
Just 2o minutes from the park entrance, Pleasant Valley hosts a variety of quaint cabins that provide everything you need for a good night's rest at a price that won't mess with your budget too much. Kitchenettes with cooking utensils are provided for each cabin, which is a big help in an area of Colorado that's sorely lacking restaurants.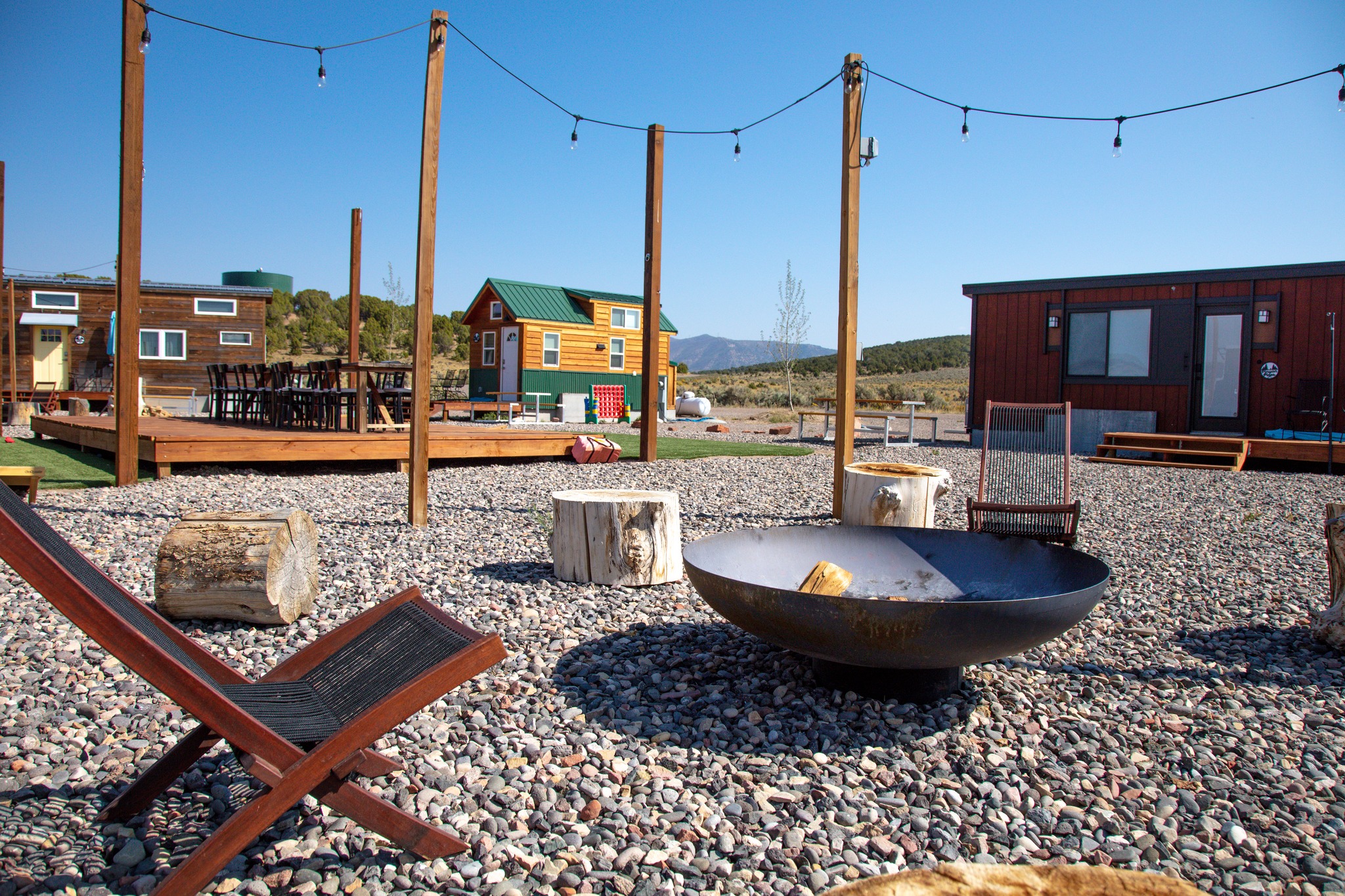 Trail and Hitch RV Park and Tiny Home Hotel near Meeker, CO. Photo by: facebook.com/trailandhitch
Dinosaur National Monument
The Trail and Hitch Lodging and RV Park is home to unique accommodations like tiny houses, yurts, and Airstream trailers. So while these structures aren't exactly cabins per se, they are great places to stay that are convenient to Dinosaur National Monument. This is a spot worthy of being on this list in our opinion.
Pawnee National Grassland
The Swan Meadow Cottages sit just under an hour away from the Pawnee National Grassland's entrance and offer a nice, peaceful getaway that's not too far from the Front Range. Tucked under stately cottonwood trees on a 40-acre plot of land that's home to swans, peacocks, guineas, ptarmigans, doves, chickens, turkeys, and cows, a cottage stay here includes a delicious homemade breakfast.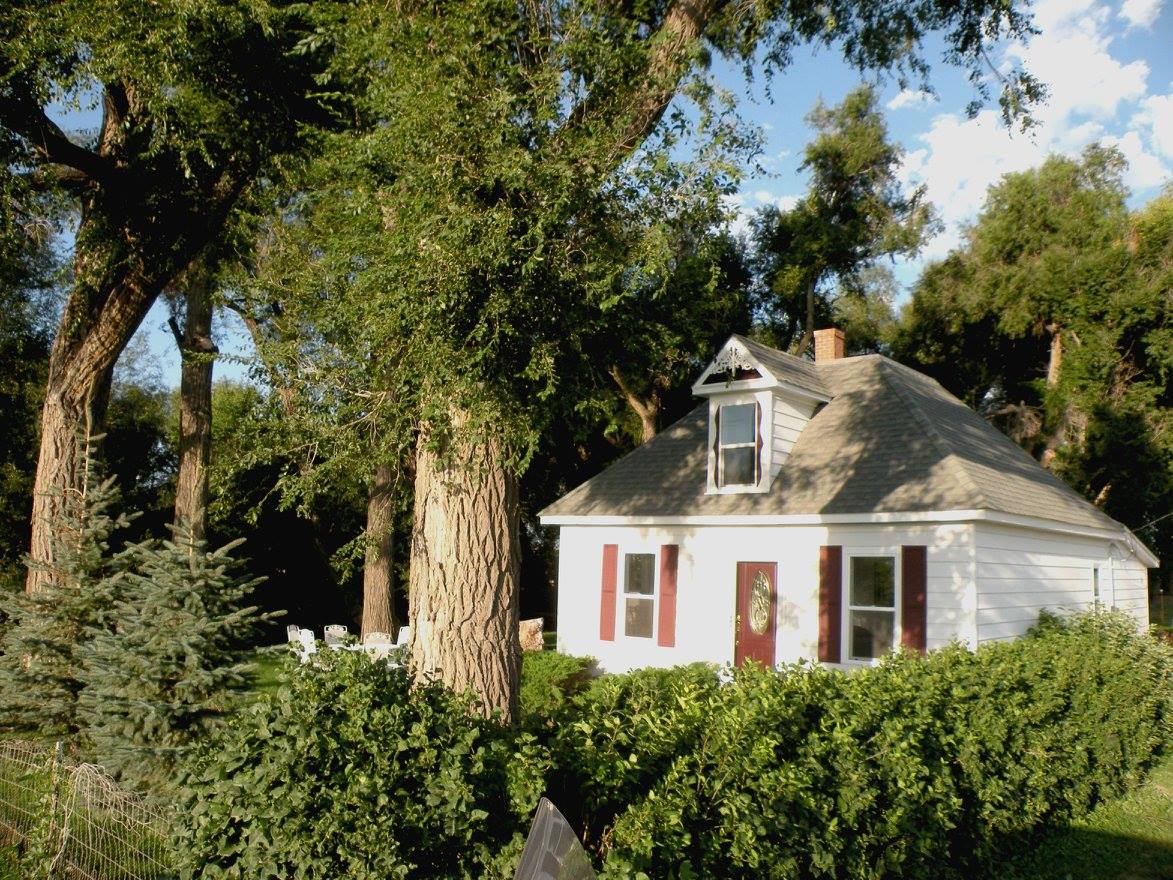 Private cabin rental at Swan Meadow Cottages near the Pawnee Grasslands. Photo by: facebook.com/swanmeadowcottages
Grand Mesa Uncompahgre and Gunnison National Forests
The National Forest Service offers a plethora of excellent cabin rentals that are located throughout the Grand Mesa Uncompahgre and Gunnison National Forests in areas like the Grand Mesa, Uncompahgre Plateau, and the San Juan Mountains.
Some cabins are described by the National Forest Service as "semi-rustic," and include plumbing, electricity, and kitchens stocked with equipment and utensils, while others don't provide running water or electricity. Affordably priced, a stay at any of the cabins offered by the National Forest Service here provides instant access to some of Colorado's best natural settings.
San Juan National Forest
Located north of Vacellito Reservoir, Bluespruce RV Park & Cabins offers bright, stylish cabin accommodations that sleep up to seven people. Each cabin comes with comfortable patio furniture, a stocked kitchen, and an outside grill for BBQs under the stars. The cabins are located in the heart of the San Juan National Forest on the doorstep of some incredible opportunities for fishing, hiking, and mountain climbing.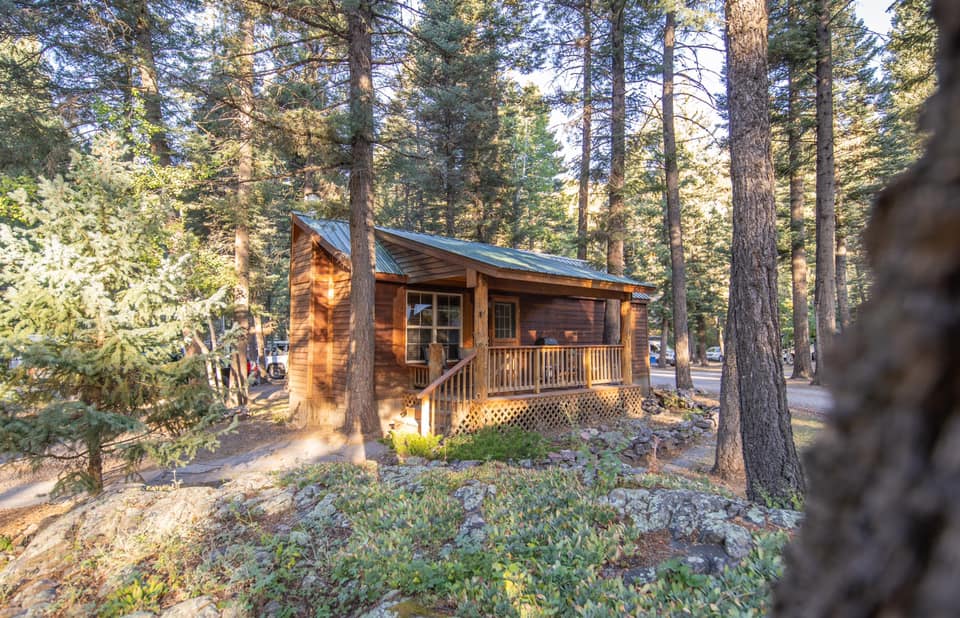 Blue Spruce RV Park near the San Juan National Forest. Photo by: facebook.com/blue-spruce-rv-park-cabins
Rio Grande National Forest
A visit to the stunningly gorgeous Rio Grande National Forest gives you the chance to stay in some unforgettable cabins ranging from historic log cabins to old guard stations that have been adapted into cozy accommodations. Each cabin is managed by the National Forest Service, and each offers direct access to nature.
Pike and San Isabel National Forest
Managed by the National Forest Service, this is your chance to stay in a refurbished lookout structure perched atop a mountain. One cabin here located just 45 minutes from Pueblo has been furnished and decorated with antiques and furniture from the early 20th century. Some cabins listed include electricity and running water and others do not so make sure to know exactly what you're in for before your stay.
White River National Forest
The National Forest Service only offers a couple of cabin rentals in the White River National Forest (one is available for day use only), with one option consisting of a unique 1930's era Forest Service workstation that sleeps up to 4 people. Popular with hunters, this cabin is also great for mountain bikers, hikers, snowshoers, cross-country skiers, and snowmobilers.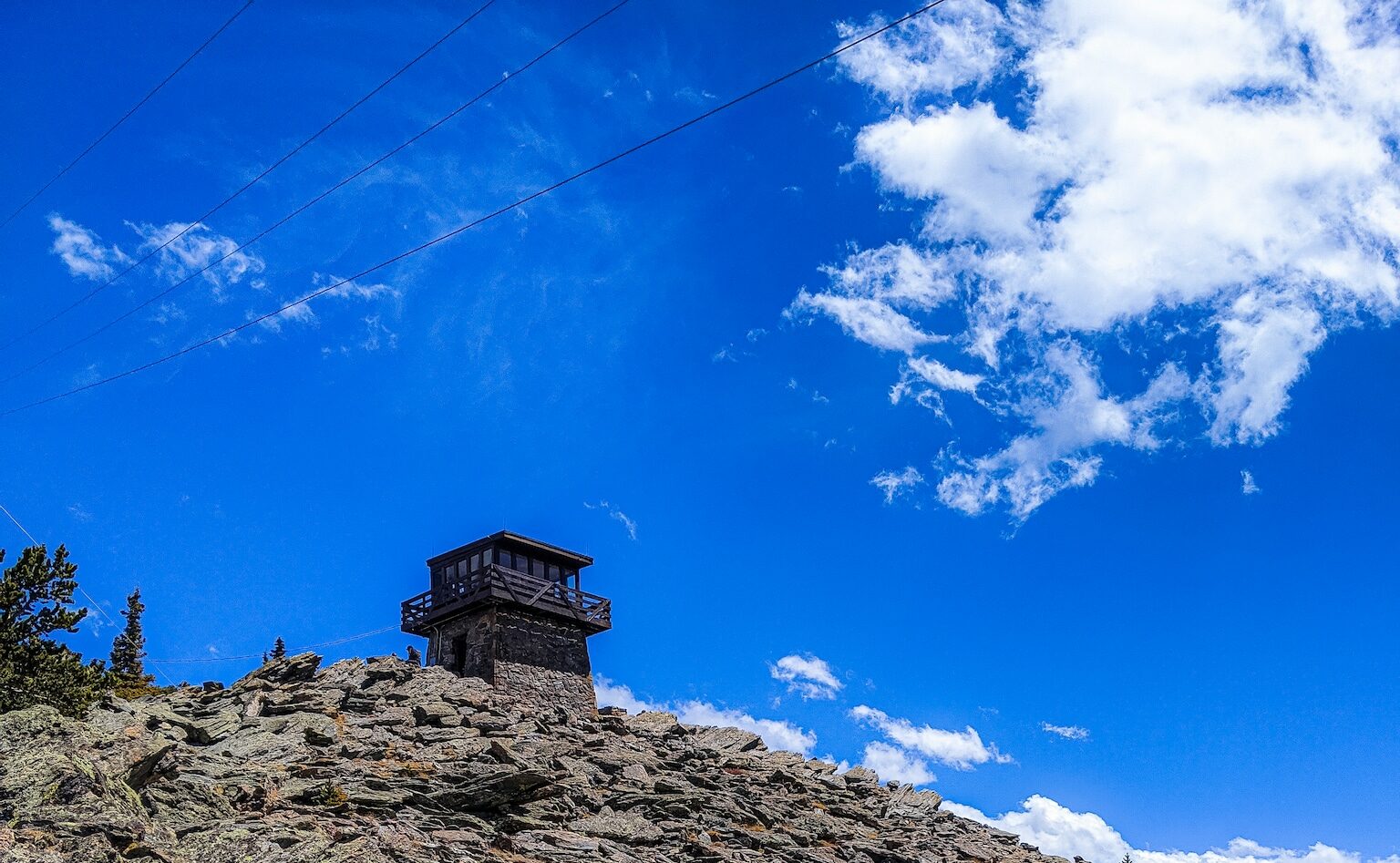 Bluebird skies over the Mestaa'ėhehe Mountain Fire Lookout. Photo by: Ben Kapp
Arapaho and Roosevelt National Forests
Only two cabins are available for rent here via the National Forest Service, but each option is truly special. The Fire Lookout on Mestaa'ėhehe Mountain is a granite structure perched at 11,000 feet that's lined by windows on each side. This cabin easily offers one of the best views to wake up to in the morning in the state.
Originally built to house family and crew members, the Stub Creek Ranger Station is thought to feature the first use of hewn-face logs in a structure, and boasts an authentic cabin look with modern amenities.
State Forest State Park
This remote area of Colorado isn't as easily accessible to the Front Range as others as it's a three-hour drive from Denver. However, it's an undeniably gorgeous part of Colorado that features great cabin accommodations that are managed by Colorado Parks and Wildlife.
If you're traveling with a large group, one cabin sleeps up to 21 people and charges a fee so inexpensive we had to read it a few times to believe it. These cabins only offer the bare essentials, such as bunk beds and propane heating stoves, but you can't beat the price and the direct access to outdoor recreation here.
Medicine Bow-Routt National Forests
The Forest Service offers a long list of cabins for rent in the Medicine Bow-Routt National Forests ranging from structures that are only available seasonally, to ones that are open year-round and can accommodate skiers in the winter. There are a lot of options here, including quiet log cabins and guard stations fixed up with modern amenities.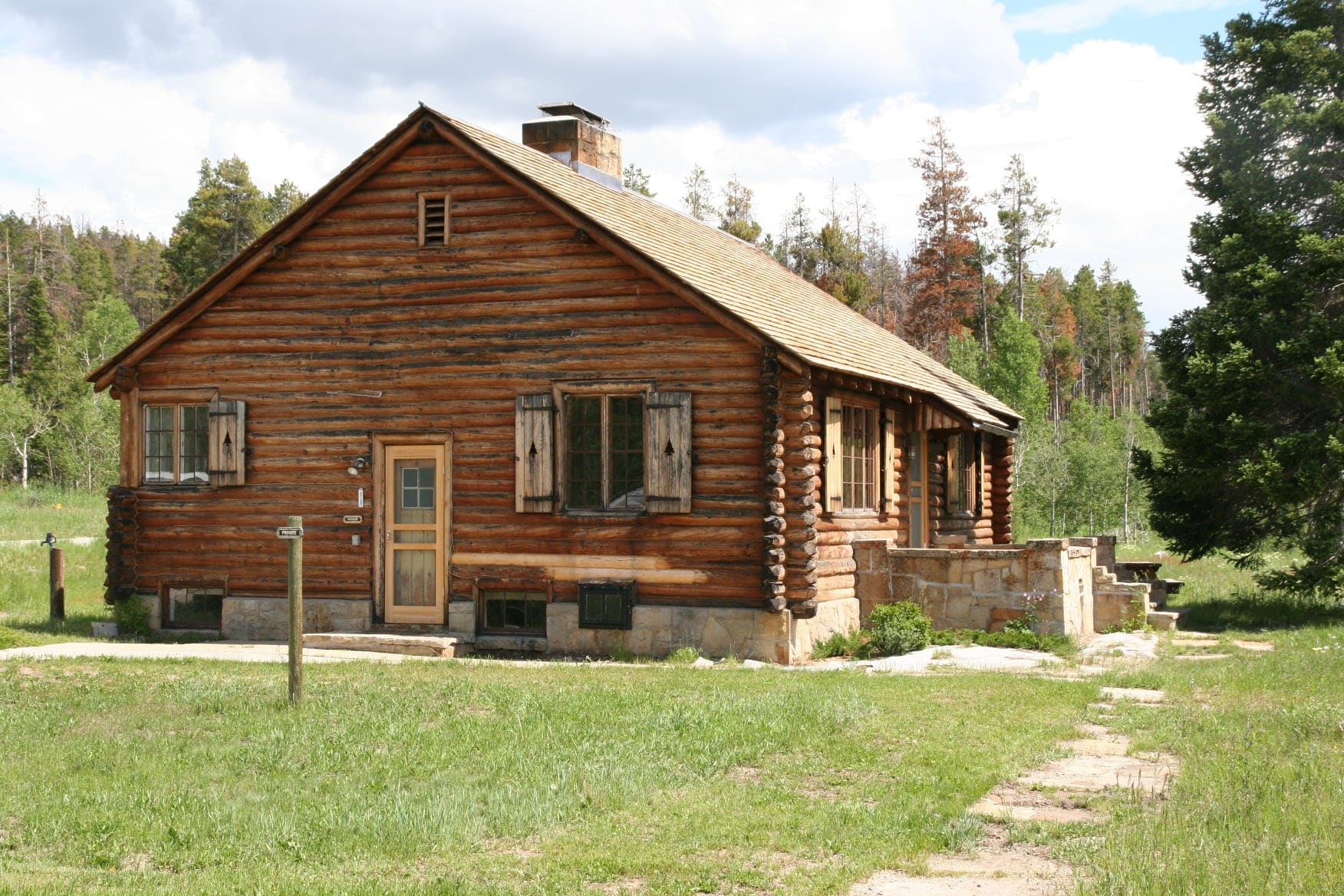 Cozy cabin rental in Medicine Bow-Routt National Forest. Photo by: facebook.com/FSMBRTB
Ridgeway State Park
Colorado State Parks and Wildlife offers three yurts for rent year-round in Ridgeway State Park that are designed to stay cool in the summer and warm in the winter. Each sleeps up to six and provides electricity, a gas log stove, and a small microwave oven.
Mueller State Park
This State Park offers three cabins for rent within its boundaries, each with fully equipped kitchens and decks that provide excellent views of the surrounding forests and mountains. There are 3 bedrooms and 1 bathroom, and each cabin sleeps 6 guests.
Golden Gate Canyon State Park
Both cabins and yurts are available for rent at this beloved Colorado State Park that's located northwest of Denver. Each option sleeps up to six, and guests are required to bring their own bedding but can expect electric lights and natural heaters. All cooking is expected to be done outside the structures.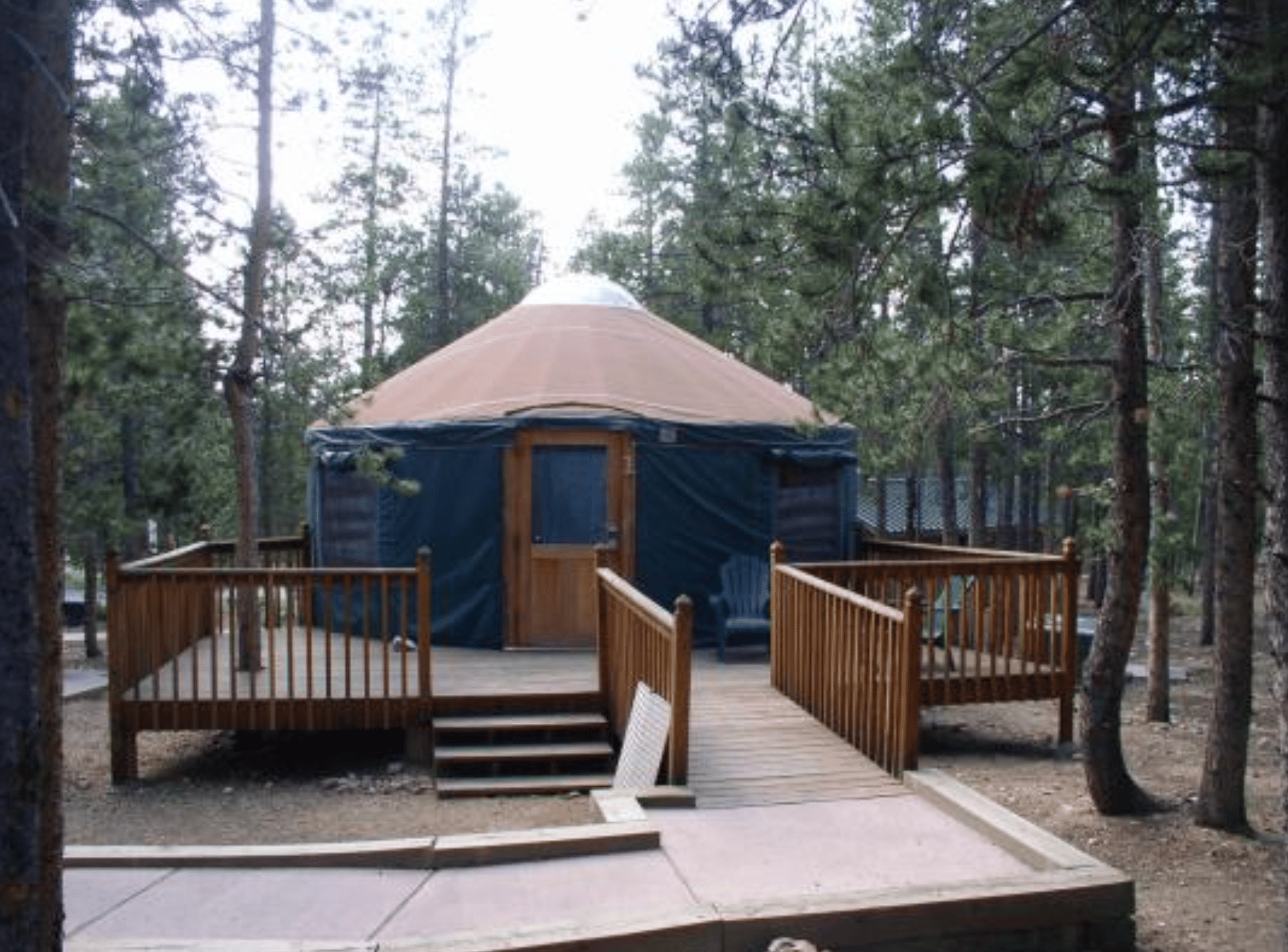 Yurt rental in Golden Gate Canyon State Park. Photo by: Colorado Parks & Wildlife
Steamboat Lake State Park
Basic 12'x12′ cabins are available for rent at Steamboat Lake State Park. Each includes electricity, small refrigerators, beds, and heaters. They're available year-round, and guests are required to bring their own bedding.
Vega State Park
There are 5 cabins available for rent at Vega State Park that sleep up to six and provide easy access to the Vega Reservoir. During the winter, a stay here is perfect for activities like sledding, ice fishing, and snowmobiling. 3 of the cabins are pet friendly as well if you're traveling with a furry friend.
Colorado Hut Systems
A hut system is loosely defined as multiple shelters like huts, yurts, or cabins located on some sort of trail system, which is spaced about a day's walk or ride from one another. The idea is that you wake up in one, travel all day via snowshoes, skis, a mountain bike, or your legs, and spend the next night in another.
Colorado has various hut systems located high up in the backcountry, with some options available seasonally and others year-round. Learn more about preparing for a backcountry hut trip.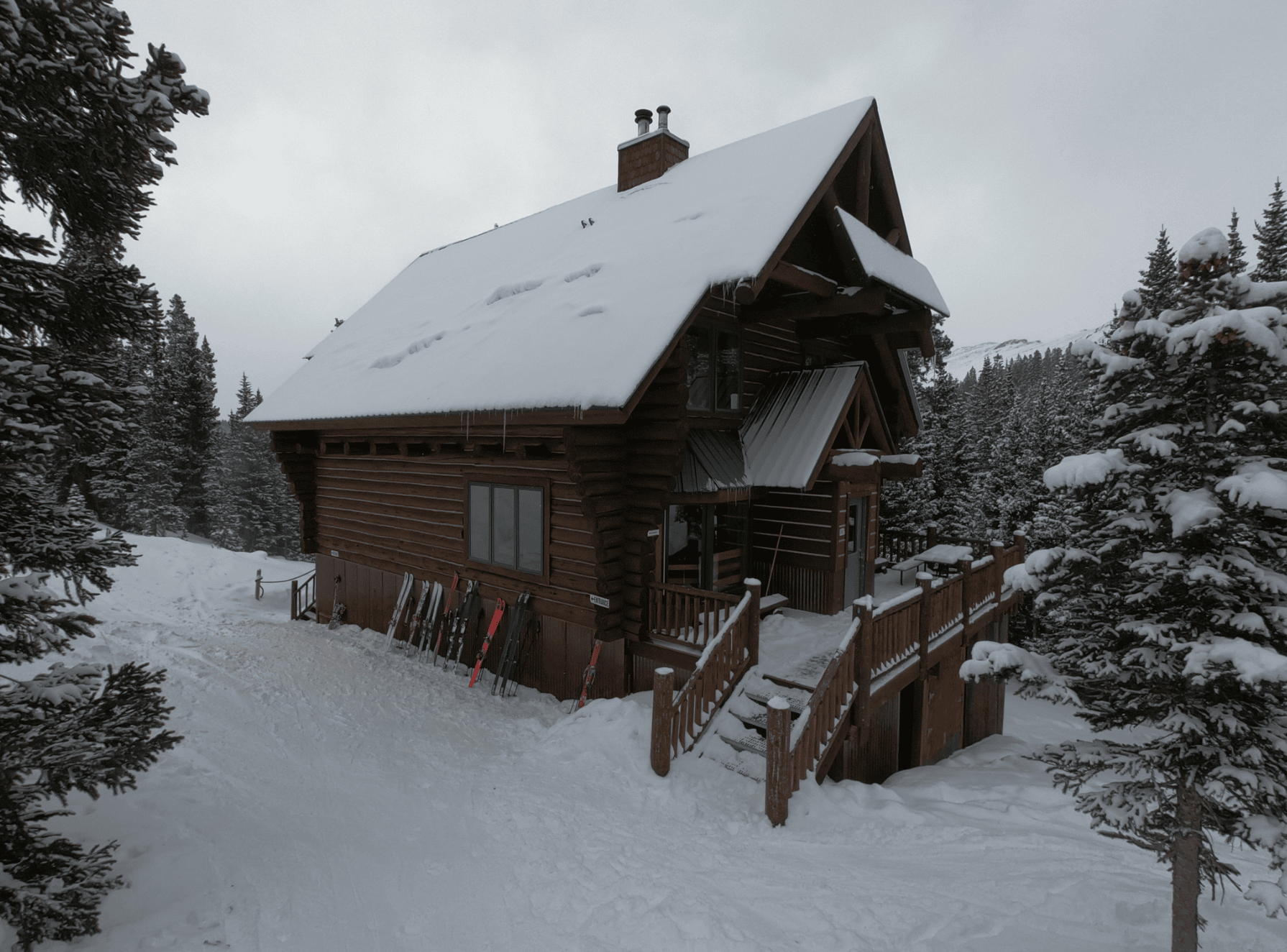 Snowy day at Janet's Cabin, part of the Summit Hut system. Photo by: Summit Huts
Summit Hut Association
Founded in 1987, the Summit Hut Association manages five huts that are located in the White River and Pike-San Isabel National Forests. The huts are designated for "self-propelled mountain recreational users," and permits are required.
San Juan Hut System
This remarkable hut system consists of 16 shelters dotted along 250 miles of single-track trails stretching from Durango, Colorado to Moab, Utah. Trips are designated by hiking, mountain biking, or backcountry skiing, and each transports you through some of the most arresting natural landscapes in North America.
10th Mountain Division Hut Association
Named to honor the 10th Mountain Division of the U.S. Army's Colorado legacy, this hut association features shelters located in the White River, Arapaho, and San Isabel National Forests, and connects more than 350 miles of trails throughout.
Read more about the 10th Mountain Division backcountry huts.
Braun and Friends Huts
Located in the Elk Mountains between Aspen and Crested Butte, this hut system is reserved only for serious planners with extensive back-country skiing and avalanche preparedness experience. Professional guides are recommended for skiers who want to take this trip but aren't sure of their capabilities.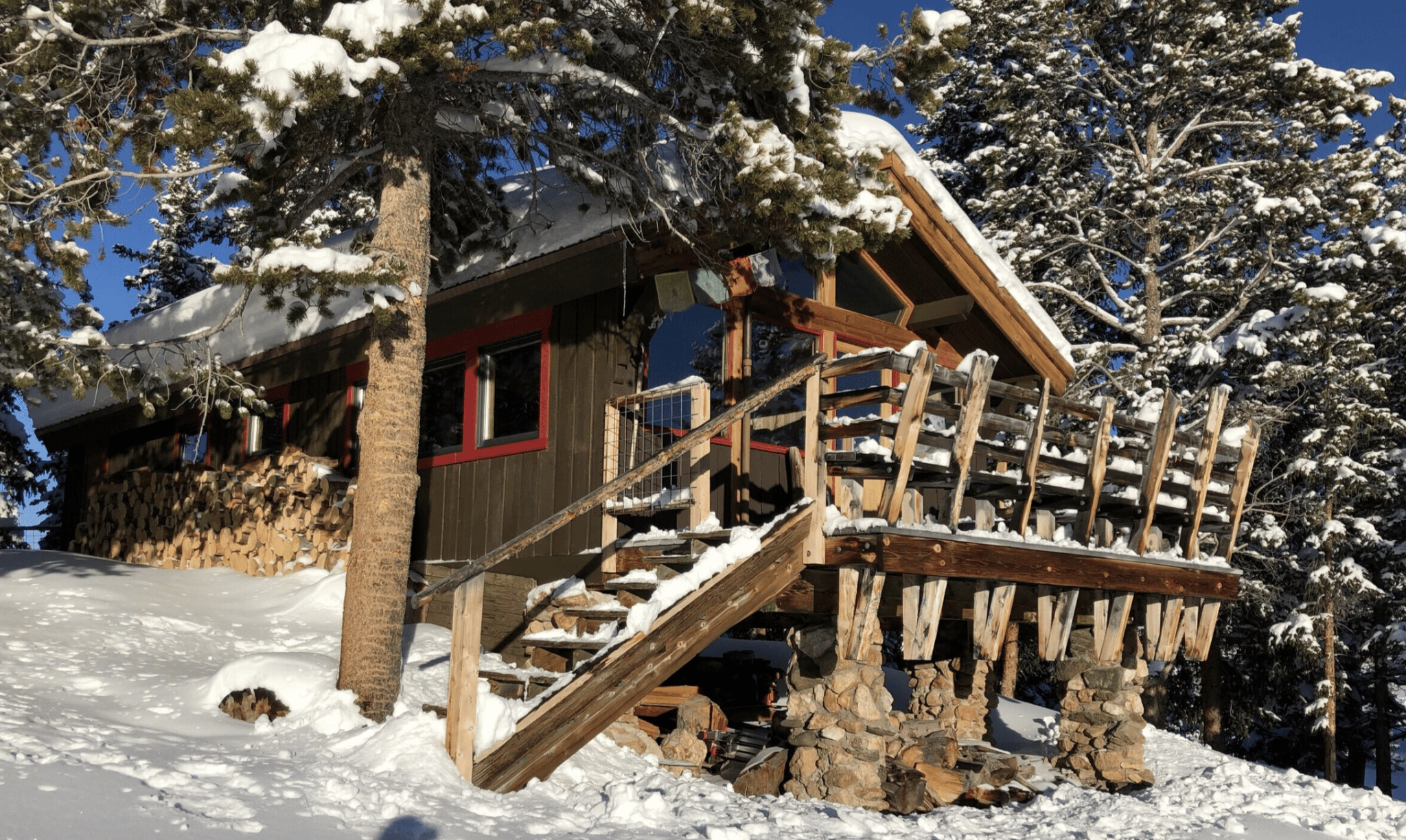 Barnard Hut, part of the Braun and Friends system. Photo by: Braun Huts
Never Summer Nordic
This company offers a system of yurts located in the Colorado State Forest State Park northwest of Fort Collins. An array of outdoor activities are offered here, some of which are designed to transport you from shelter to shelter, such as hiking, mountain biking, snowmobiling, snowshoeing, and cross-country skiing.
Hinsdale Haute Route
The Hinsdale Haute Route features the highest hut system in the state and offers two yurts that deliver astounding views of Lake San Cristobal and the Lake Fork Valley, Sunshine Peak and Lake City. This system is available for use year-round.
Leadville Backcountry
Perched high up at 12,000 feet behind the Mosquito Mountain Range and Mt. Sherman, this system of two yurts puts visitors directly in touch with the land and offers unforgettable high-elevation views.
Notable private rentals
There are countless private cabin rentals located throughout Colorado, but these well-reviewed spots are truly special. Here are some great options for your next getaway: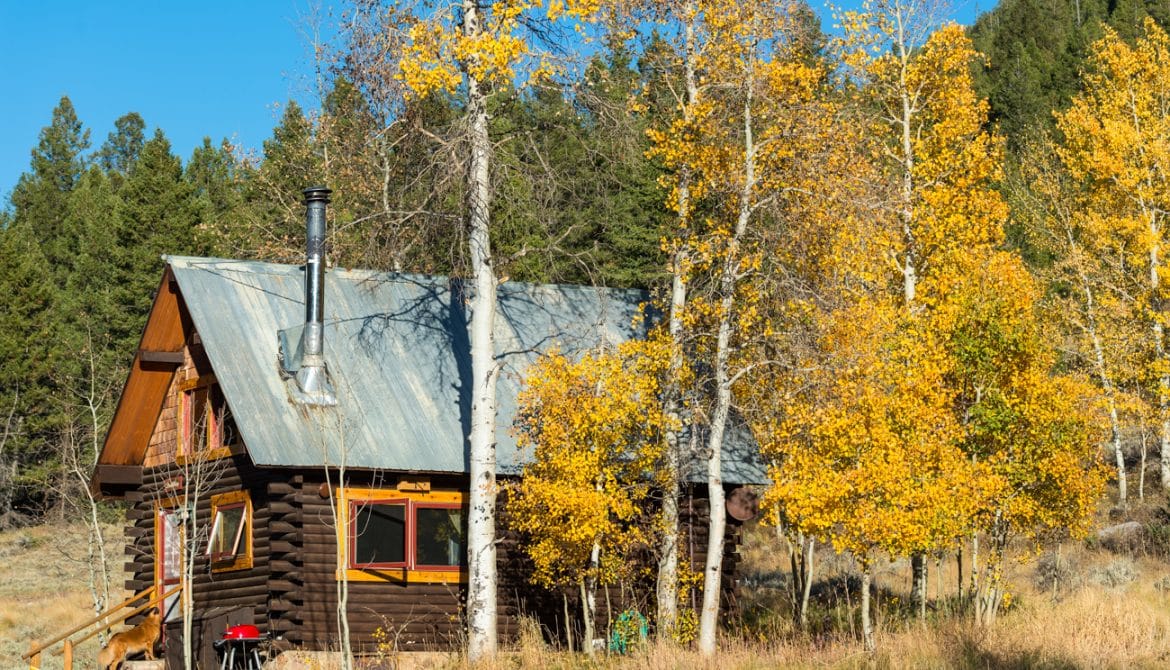 Fall colors around the Doubletop cabin at Pioneer Guest Cabins. Photo by: Pioneer Guest Cabins
Pioneer Guest Cabins
Nestled down in a picturesque mountain valley outside of Crested Butte, Pioneer Guest Cabins offer uber-comfortable accommodations in an unbelievably gorgeous setting. Outside Magazine called Pioneer's cabins the perfect blend of "wilderness style and simplicity," and they've been fawned over in other publications by the likes of Sunset, the Guardian, and the Denver Post.
Evergreen Colorado's Log Cabin & Wilderness Lodging
If you're living in Denver and are looking for a rejuvenating cabin experience out in nature, this spot sits just an hour's drive away from the city and is immersed in the alpine wilderness despite being so close to downtown. These cabins boast a good mix of authentic mountain furnishings with modern amenities to keep things comfortable.
Bighorn Cabins
West of Fort Collins, you'll find these cabins set alongside the gorgeous Poudre River. Each comes with WiFi, but in a setting as beautiful as this one, you're wasting your time online when you could be fly fishing, checking out wildflowers, or cross-country skiing in the winter.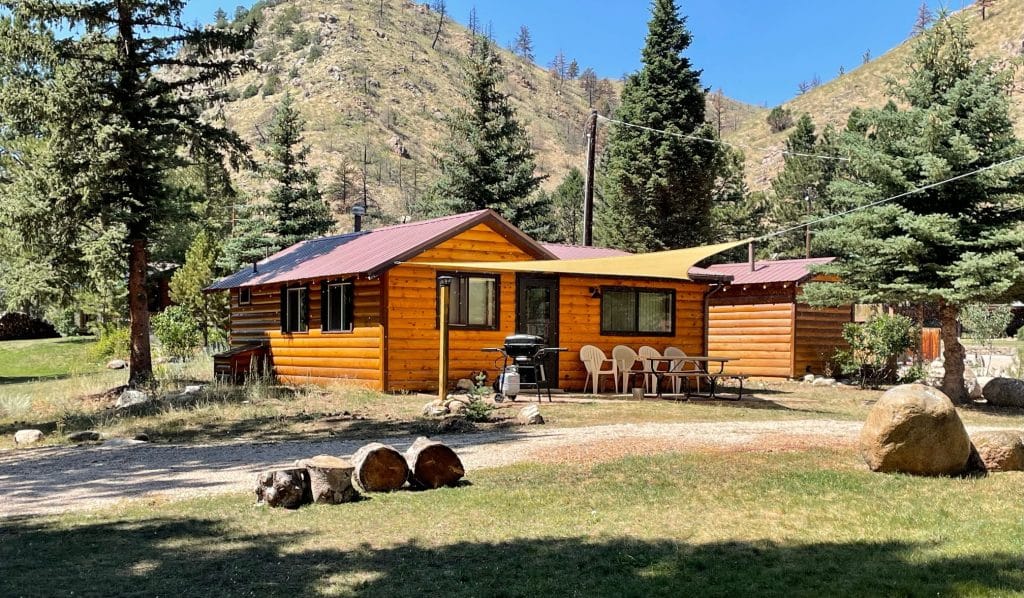 Bighorn Cabin Rentals near the Poudre River. Photo by: Bighorn Cabins
Taylor Creek Cabins
Located along the serene Taylor creek just steps away from the Frying Pan River, Taylor Creek Cabins have a lot to offer. The standout selling point is that a stay here gives you access to one mile of private Gold Medal Water river fishing. If a cabin trip in the woods isn't complete for you without fly fishing, a stay here won't leave you disappointed.
Fireside Cabins
Hailing from beautiful Pagosa Springs in southern Colorado, Fireside Cabins offer modern amenities, stellar views of the nearby San Juan River, and surprisingly affordable prices. Some cabins offer private fishing access along the river.
From highly reviewed options near national parks to private rental recommendations, we hope you found what you're looking for on this list of Colorado cabin rentals. For a look at some other abodes, check out these yurt and glamping sites.