Visiting one of Colorado's spooky ghost towns is a bucket list item for many. While few actually expect to see ghosts, nearly everyone who goes can appreciate the sightseeing opportunity of exploring abandoned former towns.
Ghost towns are an interesting, cerebral side-stop to add to your road trip. Most of these old mining villages are located at higher elevations in the Rocky Mountains, so the views are gorgeous and a lot like taking a mountain stroll with ruins and relics to stare at too. Whether you're just passing through the county or camping locally, consider hitting a few of these ghost towns near you.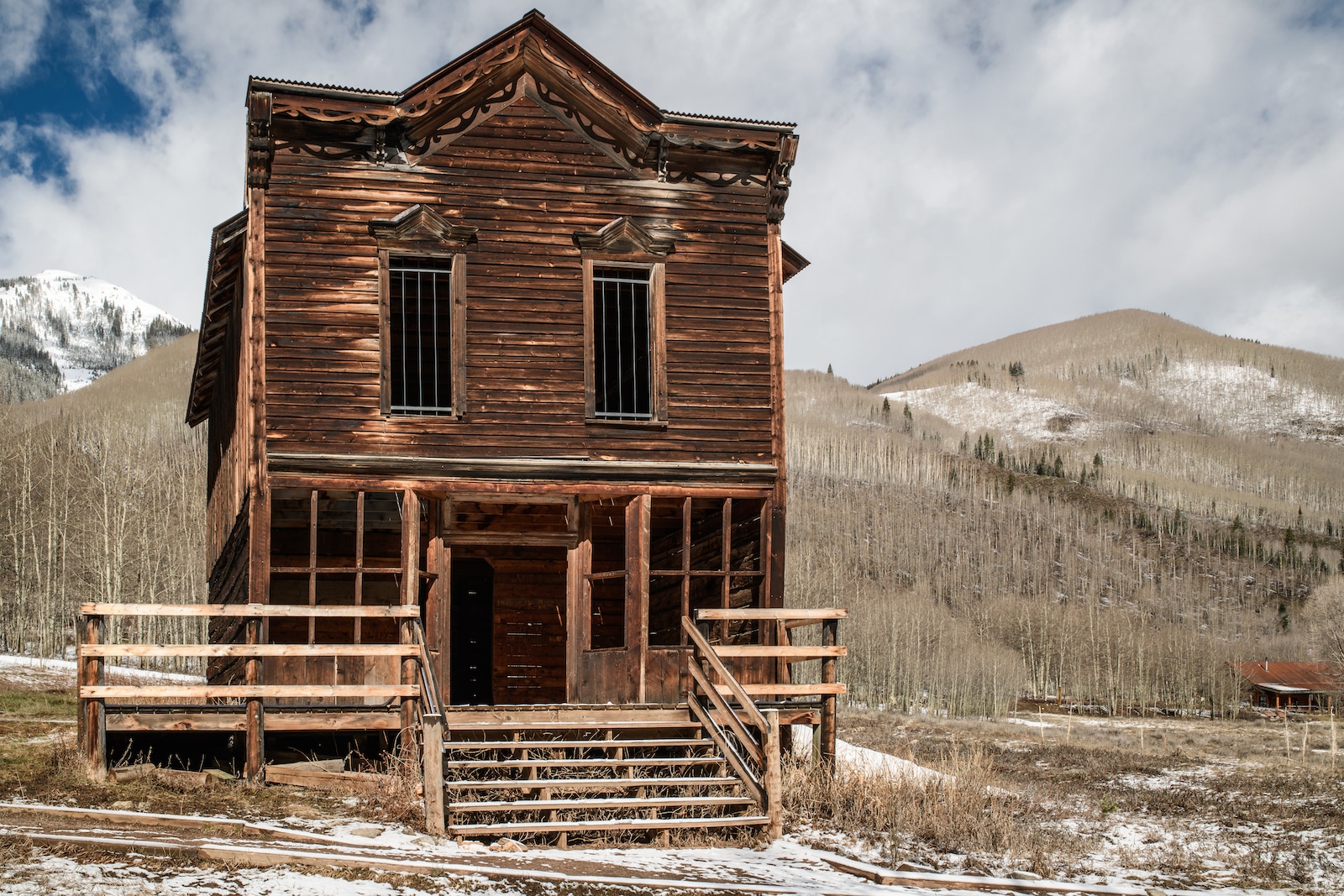 Ashcroft ghost town near Aspen, Colo. Photo by: Geoff Livingston
Let's go over some popular vacation towns and the ghost towns closest to them. Most are on federal land and open to the public for free year-round, depending on weather access. A lot of them will be snowed out and unreachable and likely the reason they went belly up. However, a few gems you could spend a weird winter day lost in an old ghost town like Saint Elmo.
Some of these require a little hiking to reach, but most can be driven nearly right up to and parked. Others, however, do require 4-wheel-drive and high clearance, the latter usually is more important. Please respect any of the ghost towns you visit, do not remove or damage anything, and make sure to clean up your trash.
Several of these communities are only semi-ghost and have seasonal or year-round residents who appreciate their natural beauty and privacy. Also, there are many more ghost towns and ancient relics that aren't listed below, waiting to be discovered.
Map of Colorado's Top Ghost Towns
Here are the ghost towns near ________, CO, in alphabetical order: (click anchor link to jump to town)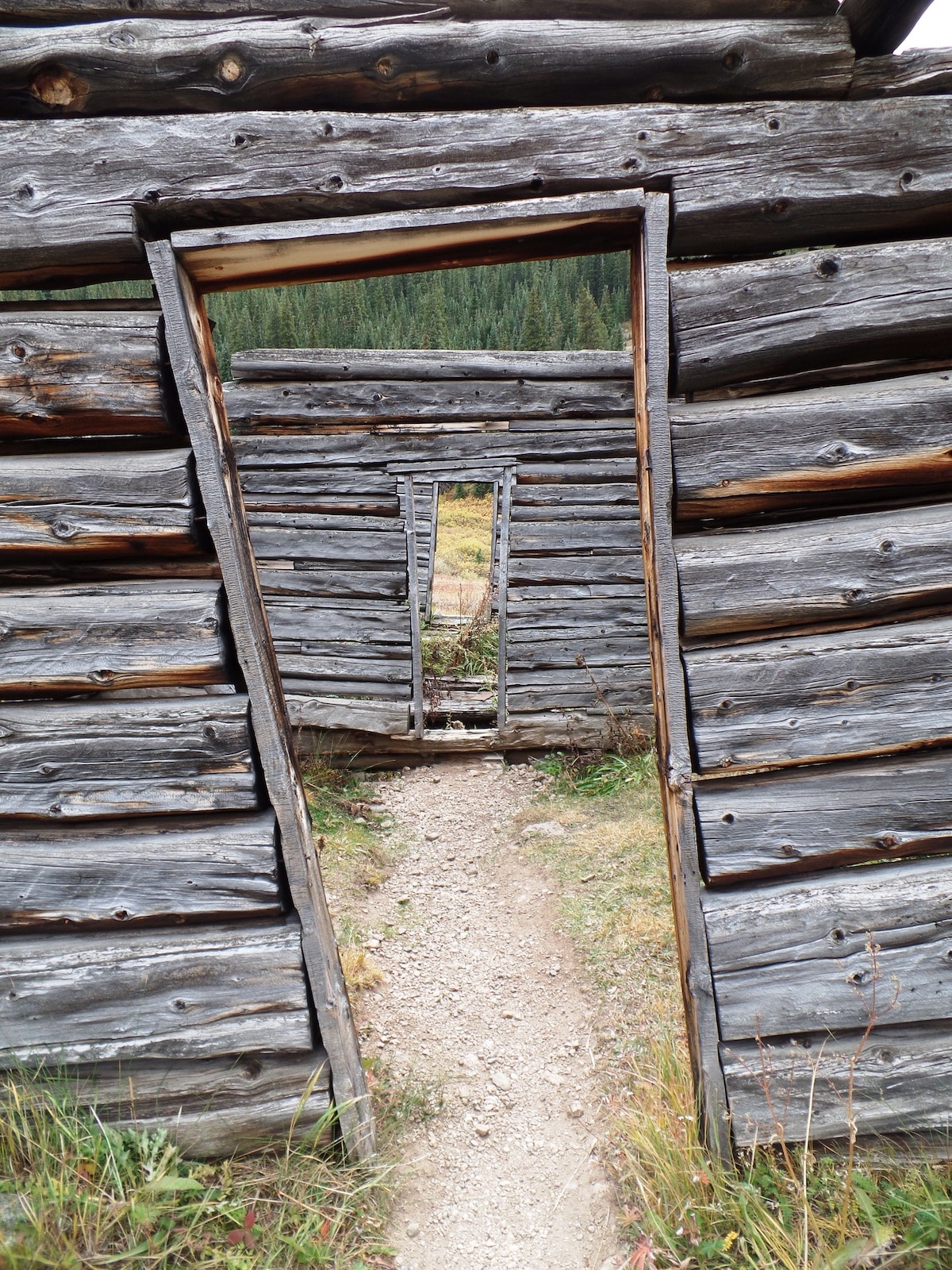 Independence ghost town near Aspen, CO. Photo by: mlhradio
Ghost towns near Alamosa
East of the San Luis Valley (SLV) you'll climb over La Veta Pass. There's an opportunity there to detour and take the old pass and check out Uptop. Otherwise, there are a lot of interesting structures situated around the mysterious SLV. The closest ghost towns to Alamosa, CO are:
Ghost towns near Aspen
Aspen's blessed with a couple of nearby ghost towns that are well preserved, including Ashcroft and Independence. The latter is easily reached by 2WD and pavement along CO-82/ Independence Pass. The closest ghost towns to Aspen, CO are:
Ghost towns near Avon/Beaver Creek
Those in the Eagle County, around Beaver Creek, can head east to Vail and then duck off the highway to find Gilman. This one is especially eerie because it's so modern. Plans to redevelop the area haven't yet materialized for the old company town and you only observe from the road. The closest ghost towns to Avon, CO are:
Ghost towns near Boulder
The close proximity to the front range cities like Boulder and Denver, along with early nearby gold strikes, created a myriad of ghost towns that aren't too far west. This region has a good mix of 2WD and 4WD-only routes, so it's easy to take a day trip into the hills. The closest ghost towns to Boulder, CO are:
Ghost towns near Breckenridge
Breckenridge was a mining boomtown. that's still one of the most popular places today. There are some ghost towns in the region, Dyersville being amongst the closest. Take Boreas Pass to Indian Gulch where you can view it. Or head back to Keystone and check out the semi-ghost community of Montezuma. The closest ghost towns to Breckenridge, CO are:
Ghost towns near Buena Vista
Nestled against the Collegiate Peaks, Buena Vista is a stunning place surrounded by some well-preserved ghost towns. The continental divide runs north-south just west of town and there are plenty of abandoned mining villages on both sides of the famous range.
Clear Creek Canyon has 4 former towns to scout out, suitable for 2WD, but on a rough rutted road. St Elmo, just to the south in Nathrop, is probably the biggest ghost town in the state. Ignore Antero Junction. The closest ghost towns to Buena Vista, CO are:
Read about the 4 ghost towns of Clear Creek Canyon.
Ghost towns near Colorado Springs
While there are likely some abandoned towns to the east of Colorado Springs on the plains, it's much cooler (in temps) heading west up into the mountains. Goldfield is a semi-ghost community outside Victor. While there around Cripple Creek, definitely follow the Gold Belt Tour, suitable for 2WD, but there is a nice 4×4 "shortcut".
Additionally, there's a difficult 6-mile hike to reach the rewarding Skagway Power Plant. The closest ghost towns to Colorado Springs, CO are:
Ghost towns near Copper Mountain
The resort community of Copper has a few options in the region to just out some high-altitude deserted spots. Montezuma lies around the corner from A Basin, or if you want to visit Breck for the day, consider adding Dyersville to your itinerary. Gilman is a really unique option if you're heading into the Vail Valley.  The closest ghost towns to Copper Mountain, CO are:
Ghost towns near Crested Butte
Situated in spacious Gunnison County, Crested Butte provides a few local options for exploring possibly haunted places. Add Gothic to your list because it's easy to access north of town and well preserved. The old Crystal Mill and townsite lie even further from this, but require a high-clearance 4×4 and navigating one of Colorado's most dangerous roads. The Crystal Mill can also be accessed on the opposite side more easily through Marble, Colo; a detour over Kebler Pass and north to Marble. The closest ghost towns to Crested Butte, CO are:
Ghost towns near Denver
If you're in the Mile High City and want to check out a ghost town, consider the Auraria campus. It may not be exactly what you're looking for, but the Victorian-styled strip of historic homes turned campus admin buildings has a certain ghost town appeal. Try to catch it when the students aren't bustling thru the campus, early morning, evening, or holiday.
Auraria, CO was built as the first permanent settlement in 1858 before Denver on the west side of Cherry Creek. The closest ghost towns to Denver, CO are:
Ghost towns near Dillon
The best ghost town to visit in Dillon is the one underneath its reservoir. That's right. The original town of Dillon was moved and the rest buried beneath a manmade reservoir in the 1950s to make way for Denver's new water supply, so you'll need scuba gear and probably a guide to get to this one.
Otherwise, just drive your 2wd car around the corner to semi-ghost Montezuma. The closest ghost towns to Dillon, CO are:
Ghost towns near Durango
The largest mountain town in Southwest Colorado was a hub of the region then and still is today. You can drive along the San Juan Skyway in any direction and pass several interesting ghost towns and mining structures. Consider hopping on the Durango & Silverton train for a step back in time too. The closest ghost towns to Durango, CO are:
Ghost towns near Estes Park
Visit the unique Homestead Meadows near Estes Park, where you can view a few still standing structures. Instead of the town being founded for mining, it was used for lumber and farming. Then head south on the Peak-to-Peak Byway and stop in on Caribou City by Nederland. The closest ghost towns to Estes Park, CO are:
Ghost towns near Fairplay
While in South Park, visit South Park City. This "ghost town museum" was reassembled in Fairplay and gathered from all around the South Park basin. It includes a whole slew of buildings that you can go inside and are furnished with late-1800s and early-1900s goods and items.
Otherwise, the expansive South Park has old stuff to see, but most of the former towns don't provide much evidence. The closest ghost towns to Fairplay, CO are:
Ghost towns near Fort Collins
Located east of Greeley on the plains is the unique ghost town of Dearfield, a predominantly black settlement. You could also head into the mountains near Estes to see the old lumber and farming village of Homestead Meadows. The closest ghost towns to Fort Collins, CO are:
Ghost towns near Frisco
Two-wheel drive vehicles can swing by Montezuma to see some history but expect a few year-round residents who enjoy their privacy and clean setting. If you're equipped with a high clearance vehicle, you can head up Boreas Pass by Breck to see Dyersville. The closest ghost towns to Frisco, CO are:
Ghost towns near Glenwood Springs
South of Glenwood lies the hidden village of Marble. It's not a ghost town by any means, but it is tiny, secluded, with a lot of history. From there, if you have a proper high-clearance 4×4, you can access the Crystal Mill site, a famous setting that you'd likely recognize from photos. The closest ghost towns to Glenwood Springs, CO are:
Ghost towns near Granby
Most of the ghost towns will be a decent drive from Granby. In the summer you can head north and check out the North Park basin. There the town of Walden might feel like a ghost town. On the way, Teller City has some fallen ruins to check out, 4wd is recommended. The closest ghost towns to Granby, CO are:
Ghost towns near Grand Junction
South of Grand Junction, the Unaweep Tabeguache Byway runs from Whitewater to Placerville. This is a gorgeous drive that's well off the beaten path and has plenty of old relics along the route. If you're up for a longer cool road trip loop, you can venture east to Marble via Glenwood Springs and Carbondale, and then swing back through Paonia and Delta. Marble is the gateway to the very photographed Crystal Mill. The closest ghost towns to Grand Junction, CO are:
Ghost towns near Grand Lake
Grand Lake has a charming historic district that is a joy to stroll. If you're doing Trail Ridge Road to Estes Park, you can dip off to Homestead Meadows after. If not, maybe leave the Middle Park basin for North Park. The closest ghost towns to Grand Lake, CO are:
Ghost towns near Idaho Springs
Considering one of first big gold strikes in Colorado occurred around present day Central City, it's no surprise there are some interesting, abandoned places in the area. Tour these old villages and then consider one of Idaho Springs' mining tours. The closest ghost towns to Idaho Springs, CO are:
Ghost towns near Keystone
Backtracking on Highway 6 from Keystone past A Basin, y0u can detour to Montezuma. Respect the current residents but marvel at the history around this sleepy village. It shares its post office with Keystone. Geneva City is further tucked away from Montezuma, and doable for those with 4WD. The closest ghost towns to Keystone, CO are:
Ghost towns near Leadville
Oro City is found just southwest of Leadville and is home to a few still-standing structures. Camp Hale was the training grounds for the 10th Mountain Division and a worthy cerebral stop. Heading south toward Twin Lakes, you should certainly check out Clear Creek Canyon and the likes of Vicksburg and Winfield. The closest ghost towns to Leadville, CO are:
Ghost towns near Ouray
Like the rest of the southwest, there is a myriad of old mining roads traversing the hillsides. With the right 4-wheel-drive vehicle, you can access it all. Jeep and ATV rentals are available in town to cruise the Alpine Loop between Ouray, Silverton, and Lake City. 2-wheelers can stick to the pavement on the Million Dollar Highway and see sights like Ironton and Red Mountain Town.
The closest ghost towns to Ouray, CO are:
Ghost towns near Pagosa Springs
There are a lot of ruins and relics to be discovered in the southwest. For a non-traditional ghost town experience, consider Chimney Rock to the southwest of town. There you can discover the Ancient Puebloan community, an old village, and kiva.
Further south by the New Mexico border lies Pagosa Junction, which can be a fun drive down to a much more secluded part of the country. The closest ghost towns to Pagosa Springs, CO are:
Ghost towns near Pueblo
Southwest of Colorado's Steel City, lies the eccentric Sangre de Cristo mountain town of Westcliffe. From here, you can do some small-town city stuff like shop and eat, and then head out to Rosita and Querida, two of the local ghost towns. If you're already going south on I-25, Ludlow is a historic landmark with ruins and a monument to visit. The closest ghost towns to Pueblo, CO are:
Ghost towns near Salida
The cool riverside town of Salida, Colorado is a convenient basecamp for a spooky adventure. Going north towards Buena Vista, you can swing by up Chalk Creek Canyon and the popular Saint Elmo ghost town. Going south on Highway 285 leads you into the strange San Luis Valley.
The UFO Watch Tower is a quirky landmark to explore and then maybe take an easy hike out to Orient ghost town and a bat cave, before dipping in the local hot spring waters. The closest ghost towns to Salida, CO are:
Ghost towns near Silverthorne
Another Summit County town, Silverthorne has a few alright ghost town options. The closest is Montezuma, which is part of Keystone's mailing address, has a few year-round and seasonal residents. Geneva City is found a little further from that Montezuma. The closest ghost towns to Silverthorne, CO are:
Ghost towns near Silverton
The San Juan Skyway, which loops from Durango to Ouray to Telluride and back around again, has numerous old relics from its mining heyday(s). Silverton sits at the start of the Million Dollar Highway, a stretch of the loop with some great ghost towns. You can also connect to Lake City via the Alpine 4×4 Loop, a spectacular journey between three cool towns and many former ones. The closest ghost towns to Silverton, CO are:
Ghost towns near Steamboat Springs
Driving into Steamboat Springs from any direction and one can see spot old ruins along the way. Highway 40 and US 131 are the main routes into town, there's even some former ski trails carved out of the mountainside behind Stagecoach Reservoir. But there aren't many ghost towns. Although still populated, Hahns Peak Village, secluded north of Clark is an interesting look back into time and Teller City resides in vacant North Park. The closest ghost towns to Steamboat Springs, CO are:
Ghost towns near Telluride
Southwest Colorado is loaded with high-elevation boom-and-bust minings towns. One of the highest in Colorado is located near Telluride at over 11,500 ft. Access to the local Tomboy is reserved for the summer months. The same goes for Alta, which resides at 11,800 ft! The closest ghost towns to Telluride, CO are:
Ghost towns near Vail
Those in the Vail Valley can take US-24 south toward Leadville, passing the charming, secluded towns of Minturn and Red Cliff. In-between the two, there's Gilman ghost town, a much more modern neighborhood than others on the list. Venture further to Camp Hale, while not a ghost town, has ruins from the 10th Mountain Division. The closest ghost towns to Vail, CO are:
Ghost towns near Winter Park
Winter Park has a nice scenic drive option for those with a high-clearance vehicle. Take the 4×4 Rollins (Corona) Pass just before the town on Highway 40 up to the old Corona apex station. Otherwise, there are some other options that require a bit of a drive. The closest ghost towns to Winter Park, CO are: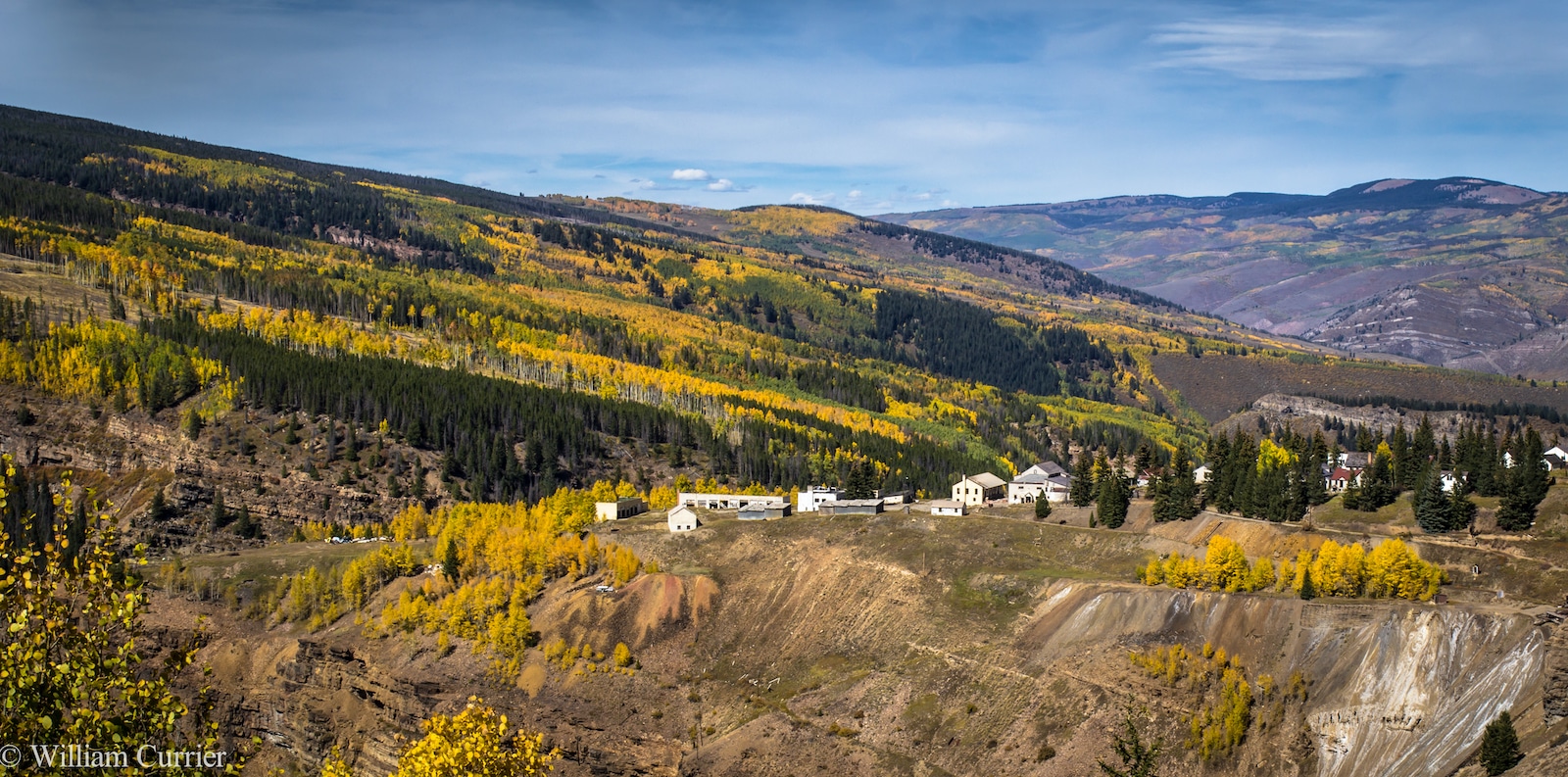 Gilman ghost town near Vail, Colo. Photo by: William Currier
As you can see, pretty much all the popular tourist mountain areas in Colorado are located nearby some old ghost town(s). Have fun exploring and remember to leave no trace and take only pictures. And consider combining your ghost town trek with a trip to a local hot springs near you.