Several months of the year, the Centennial State turns into a winter wonderland as cold temperatures and snow blanket the Rockies. There is no doubt, Colorado is cold. However, there are many misconceptions about just how low the temperatures can drop during the fall and winter months.
Some people seem to think Colorado is like Antarctica outside, but that's certainly not the case. In fact, it can be quite hot here during the summer, with warm days even in the wintertime. Plus, with the dry air and plethora of sunny days, it's relatively comfortable and a desirable place to be year-round.
Cold snaps are common throughout the state, but on average, the coldest temperatures will be felt in the mountains; the higher the elevation, usually the colder it is. Winter can be brutal here, but manageable with proper winter attire (and snow tires). Surprisingly, there are even a few places that remain relatively warm and mild throughout the year.
For new residents and visitors who want to learn more about Colorado's weather, we've researched what you need to know about the state's coldest months. Whether you're just curious or are looking to plan a trip, you'll want to have the best experience as you take on winter in the Rockies.
Colorado's Dry Climate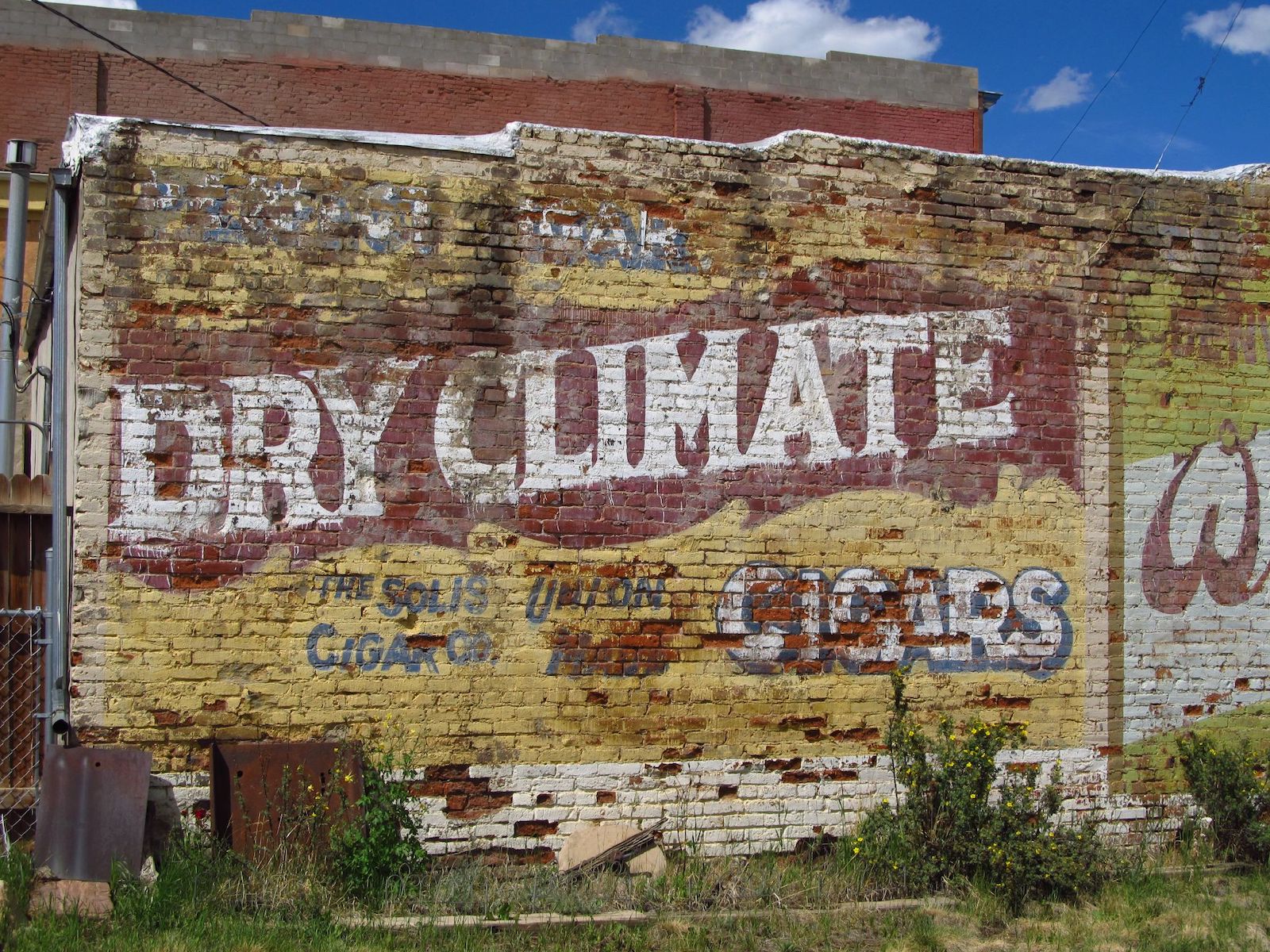 Mural in Victor, CO. Photo by: Jasperdo
Colorado is part of the Mountain States (Arizona, Idaho, Montana, Nevada, New Mexico, Utah, and Wyoming) in the Western Region of the United States. Geographically, the state features mountains, foothills, deserts, and high plains.
For the most part, Colorado is divided into semi-arid and alpine climates. The Eastern Plains and Front Range Urban Corridor have a semi-arid climate and in Colorado's Rocky Mountains, the climate changes to alpine.
The unique climates lead to some wild weather patterns, but overall, the state is very dry because it is so far away from large bodies of water. Typically, the winters are cold and summers are hot, however, you can always escape the summertime heat for the higher elevations of the Rockies.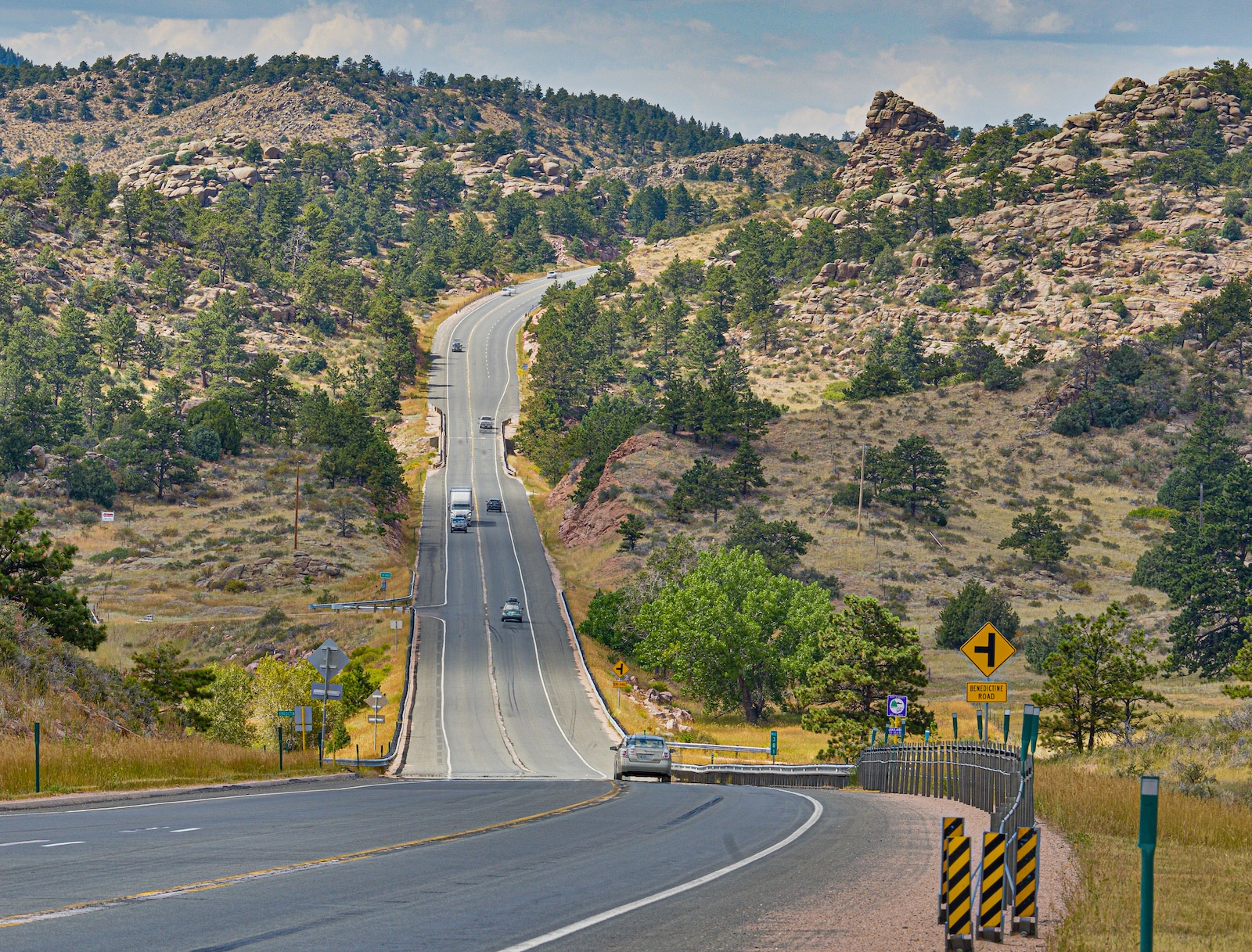 Ups and downs on US-287, Virginia Dale, CO. Photo by: risingthermals
It's also common for the temperature to drastically change from day to night as cooler weather settles in after the sun sets. The dry climate equates to a lack of humidity, which tends to be more favorable in both hot and cold temperatures.
Colorado feels dry and the lack of moisture in the air can certainly be felt during the state's coldest months. Unlike the East Coast of the United States where high humidity ensures that you feel the bitter cold down to your bones, Colorado's dry climate protects you from the worst of the cold. This is because, in general, a dry cold will feel warmer than a wet or humid cold.
Overall, average winter temperatures in Colorado hover between 16 and 54 degrees Fahrenheit. The large difference is because temperatures are also affected by location and elevation. Naturally, with any average, it can get a lot colder than 16° F, and warmer than 54° F on summer days.
Like all places, the cold temperatures will feel even colder if it is a windy day (wind chill). And on average, January is the coldest month in Colorado, though sometimes December is the coldest in places, such as Colorado Springs and Denver. Typically, January and February are the snowiest months, so opt for these if planning a ski vacation.
Elevation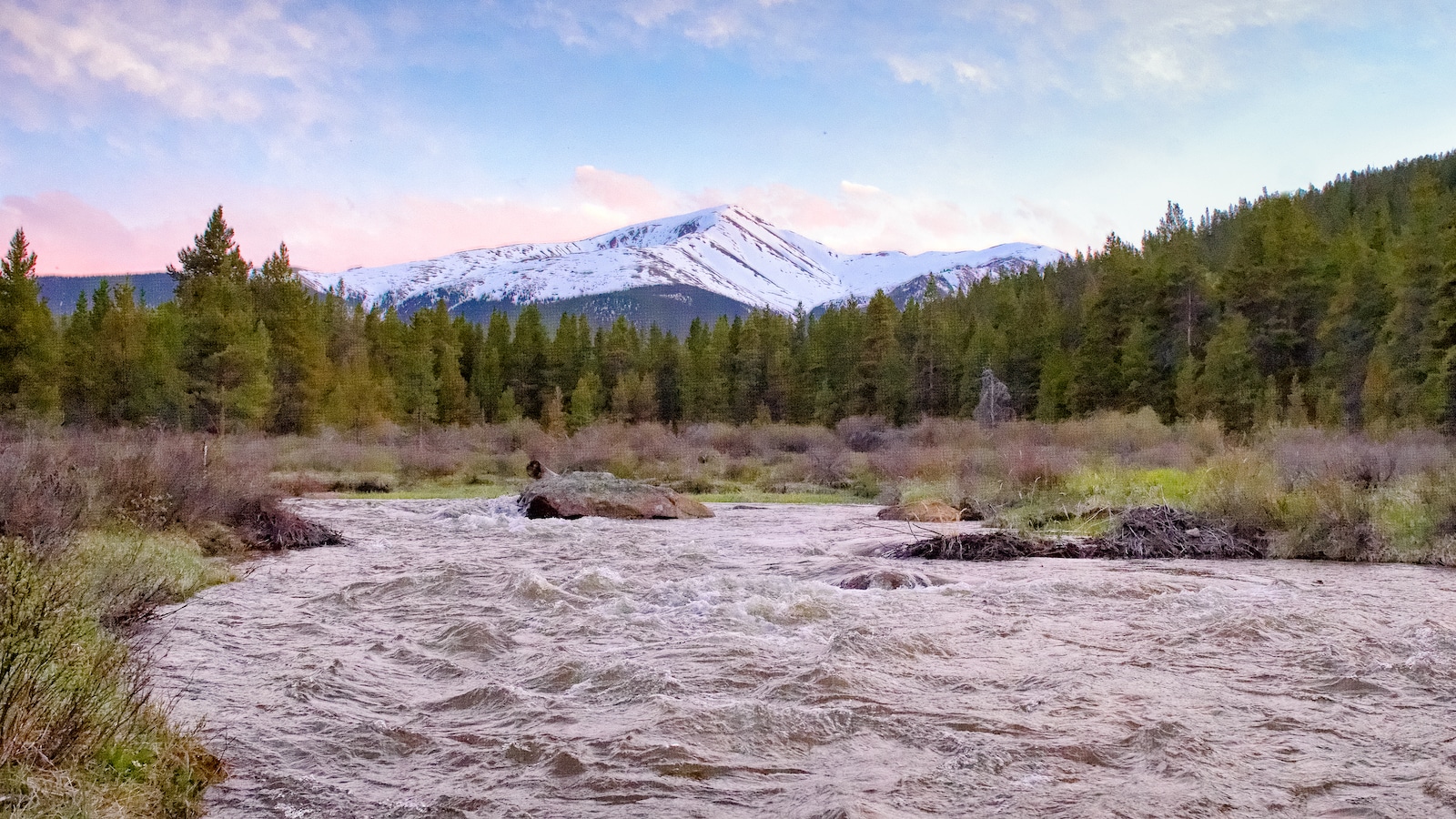 Colorado's highest peak, Mt. Elbert. Photo by: Jay Melnick
The elevation is an important factor in temperature and Colorado is a state with the highest average elevation and huge variations from place to place. It's famous for its high elevations in the Rocky Mountains where 58 peaks exceed 14,000 feet (4,267 meters) above sea level. The highest point in the state is the summit of Mount Elbert, which sits at 14,440 feet (4,401 meters).
Even the capital city, Denver, sits at a high elevation of around 1 mile (5,280 feet/1,609 meters) above sea level. Most towns here sit at a high elevation, relative to the rest of the US, and it's the only state in the US that sits entirely above 3,000 feet (914 meters) above sea level. On the Eastern Plains, the elevation steadily drops as you head east to Kansas.
The lowest point in Colorado is on the Eastern Plains in Yuma County, near the border of Kansas. At a point where the Arikaree River crosses into Colorado from Kansas, the elevation is marked as 3,315 feet (1,010 meters).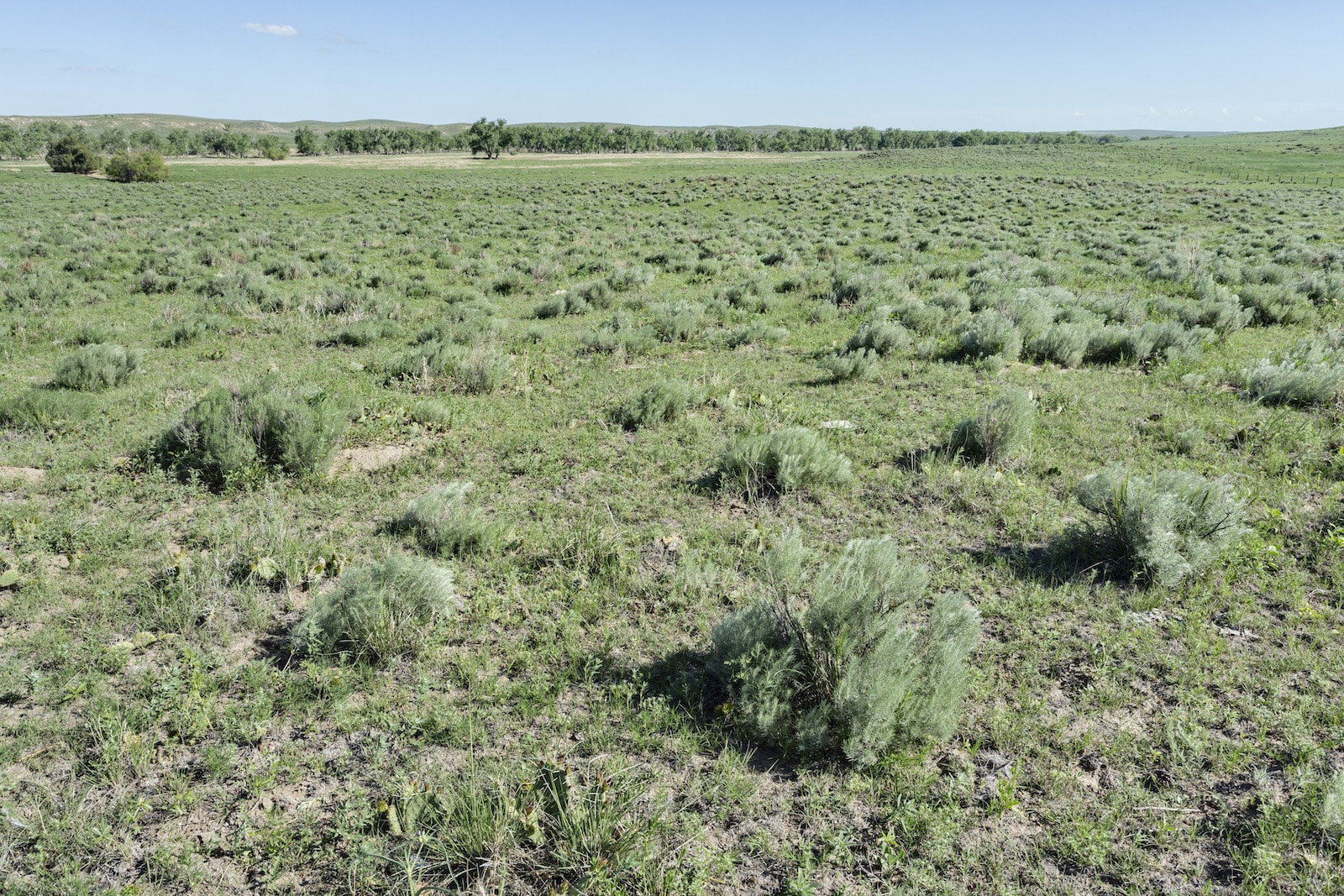 Sandy bluff on the northwest side of the Arikaree River, southeast of Yuma County, CO. Photo by: Patrick Alexander
Between the state's highest and lowest points, winter temperatures have drastic variations. The coldest places in Colorado will always be found in the mountains, where the average elevation is 6,800 feet because temperatures decrease as elevation increases. Typically, they say to use a rule of 3 to 5 degrees less with every 1,000 feet gained in elevation.
Along the front range urban corridor (Fort Collins south to Pueblo), most of the city elevations hover between 5,000 and 6,000 feet (1,524-1,829 meters). Much lower than the tallest peaks, winter here, along with the eastern plains tends to be fairly mild. The far western slope out near Grand Junction and Fruita, sits even lower at around 4,500 feet in elevation. Spring comes early here and the winters are also mild.
At these locations at the base of the Rockies and high desert, you'll experience plenty of below-freezing days, but also some warm winter days in the 60s. And luckily, the sun is a common sighting year-round.
Coldest Places in Colorado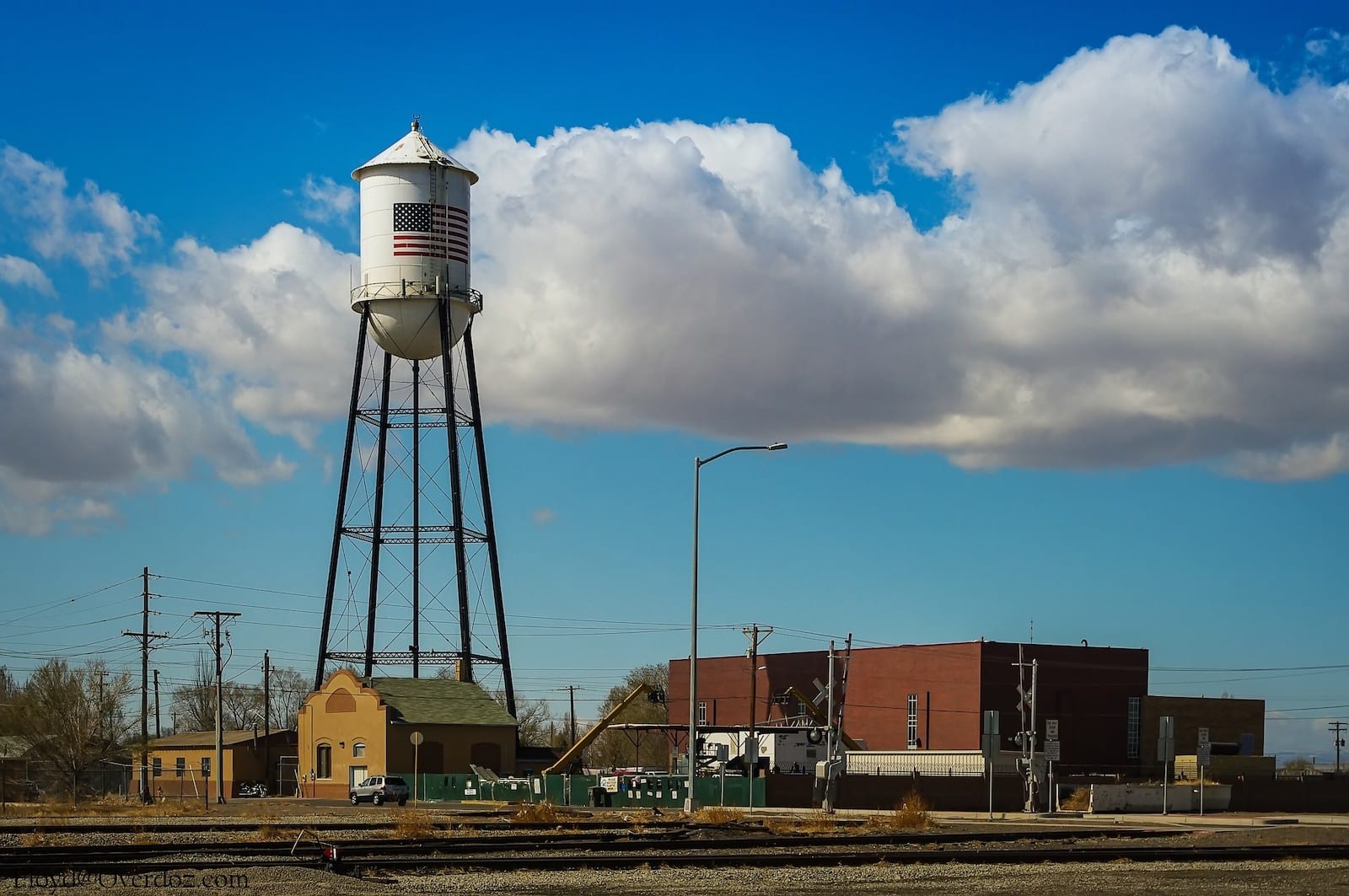 Water tower in Alamosa, CO. Photo by: Floyd
There are numerous places in Colorado that may hold the claim as the coldest place in the state. Sure, it can vary from day to day, based on temperatures and weather patterns, but on average, a few towns consistently get the rep as coldest. They are Alamosa, Gunnison, and even Fraser (a neighbor of Winter Park).
Oftentimes, a valley surrounded by tall mountains will be colder than some of the mountainsides surrounding it. This is because, in places like the San Luis Valley and Gunnison River Valley, home to Alamosa and Gunnison, respectively, the coldest air typically settles on the floor of the valley, with the warmer air rising up.
See this for yourself, next time you're at the top of Monarch Pass heading towards Gunnison, check the temperatures at the top and then again at the bottom and see if it's not colder down below.
Negative temperatures are common in Alamosa and throughout the entire San Luis Valley during late fall and winter. As a valley that's surrounded by tall mountains, some of which are the Sangre de Cristo fourteeners, cold air tends to settle on the valley floor while warm air rises up the mountainsides.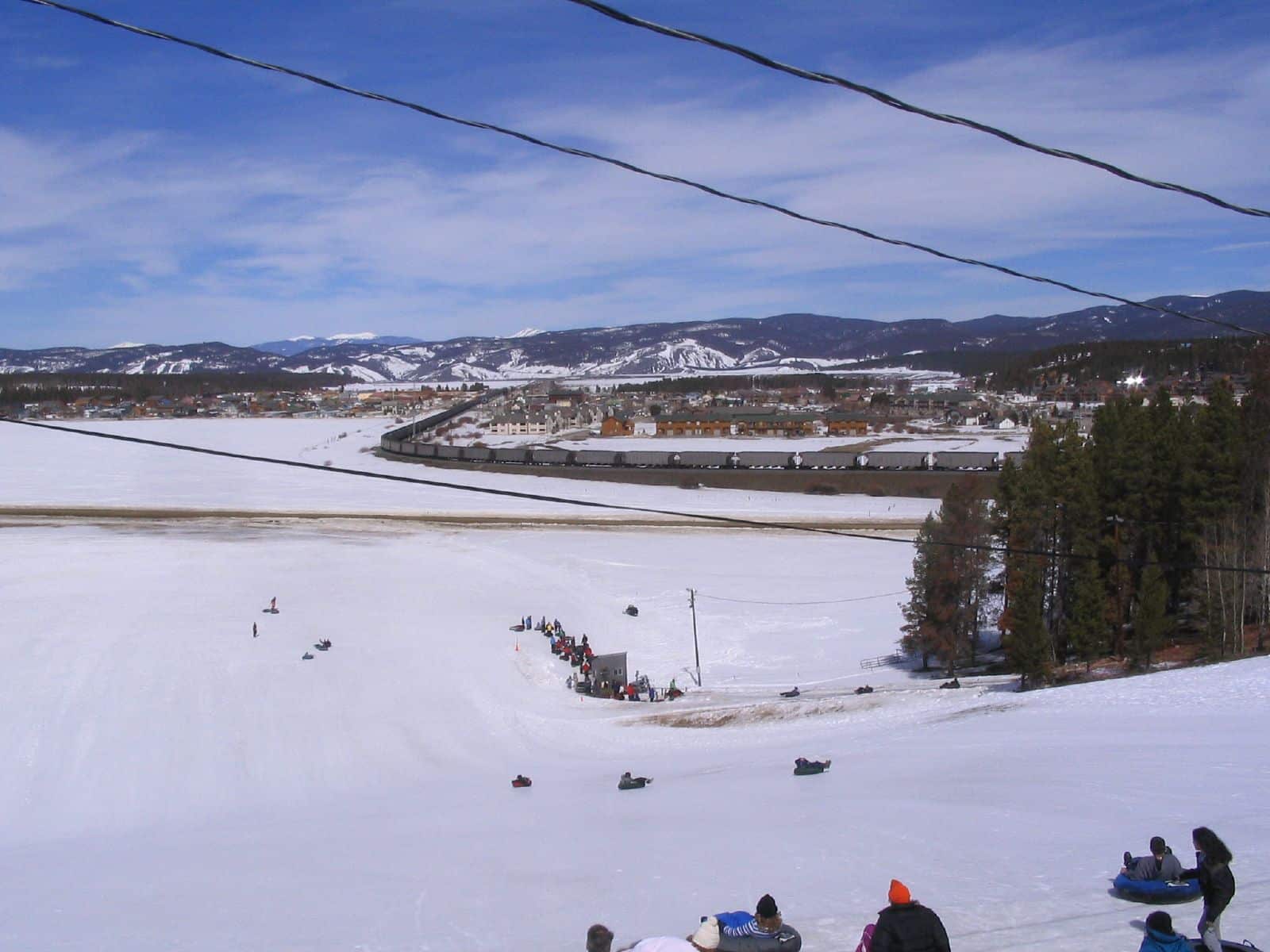 Wintertime tubing in Fraser, CO. Photo: Liralen Li
Taking into account a year's worth of weather, with an annual mean temperature of 36 degrees Fahrenheit (2.2 degrees Celsius), the small incorporated town of Fraser is often considered the coldest place in Colorado. Fraser's low temperatures and subarctic climate also make it one of the coldest towns (incorporated) in the lower 48 states.
In Fraser, it's quite common to see frost on the ground year-round (with more than 285 days recording temperatures below freezing). The coldest temperature ever measured in Fraser was -53 degrees Fahrenheit (-47.2 degrees Celsius) on January 10th, 1962.
The coldest temperature ever measured in the state was in the unincorporated town of Maybell. On February 1st, 1985, the temperature in Maybell hit -61 degrees Fahrenheit (-51.6 degrees Celsius).
Average Temperatures in Colorado
Keeping elevation in mind, average temperatures lower in the mountains and rise along the Front Range and Eastern Plains. With so many varying elevations and different climates, we've taken a look at the average temperatures of a few towns and cities spread throughout the state.
Aspen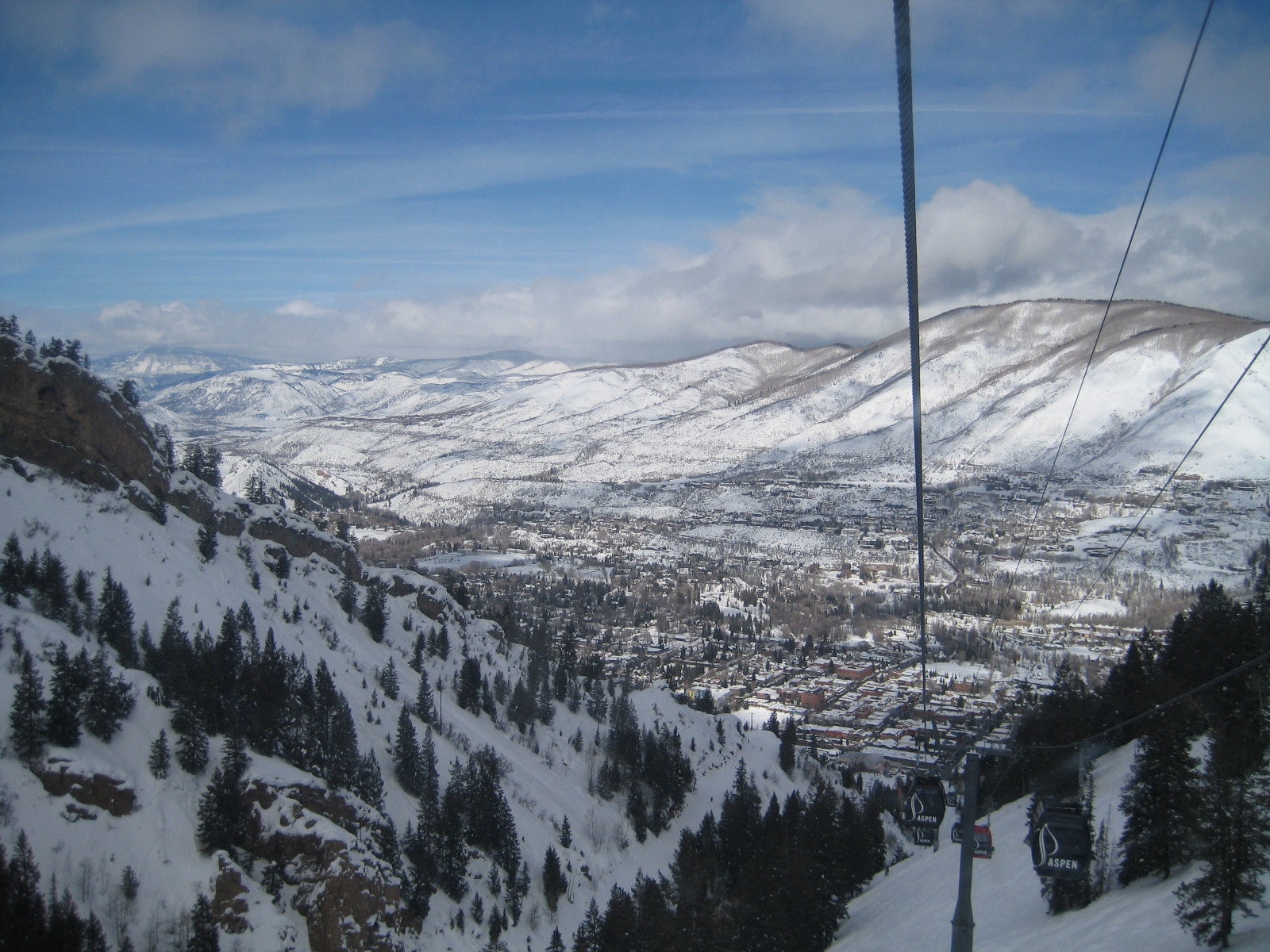 Aspen, CO during the winter. Photo: Roban Kramer
8,000 feet/2,438 meters | Colorado's most luxurious ski resort, Aspen, has an average winter temperature of 10-39 degrees Fahrenheit (-12.2-3.8 degrees Celsius) from December to February.
Even though the temperatures can be very low, the weather in Aspen is typically partly cloudy during the winter months. Aspen will see the sun most days before clouds and storms arrive during the night.
Boulder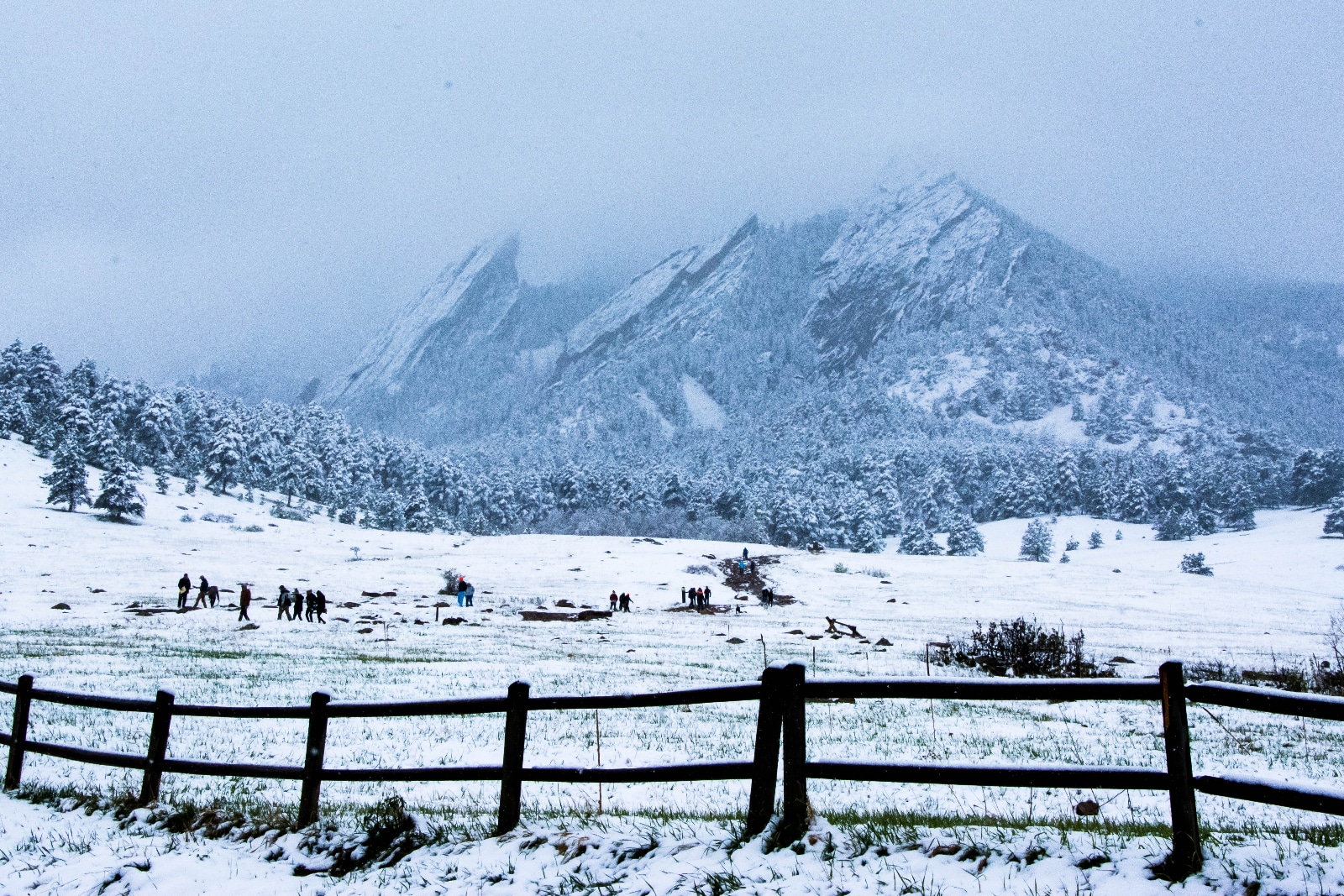 Snow covering the Flatirons in Boulder, CO. Photo: Lauren Parnell Marino
5,318 feet/1,621 meters | Colorado's greenest city, Boulder, typically has mellow winters where the temperatures average from 22-49 degrees Fahrenheit (-5.5-9.4 degrees Celsius) from December to February.
December is usually the coldest month with the most snow. Although Boulder winters are typically mild, they can be quite long with cold weather coming and going from October to April.
Colorado Springs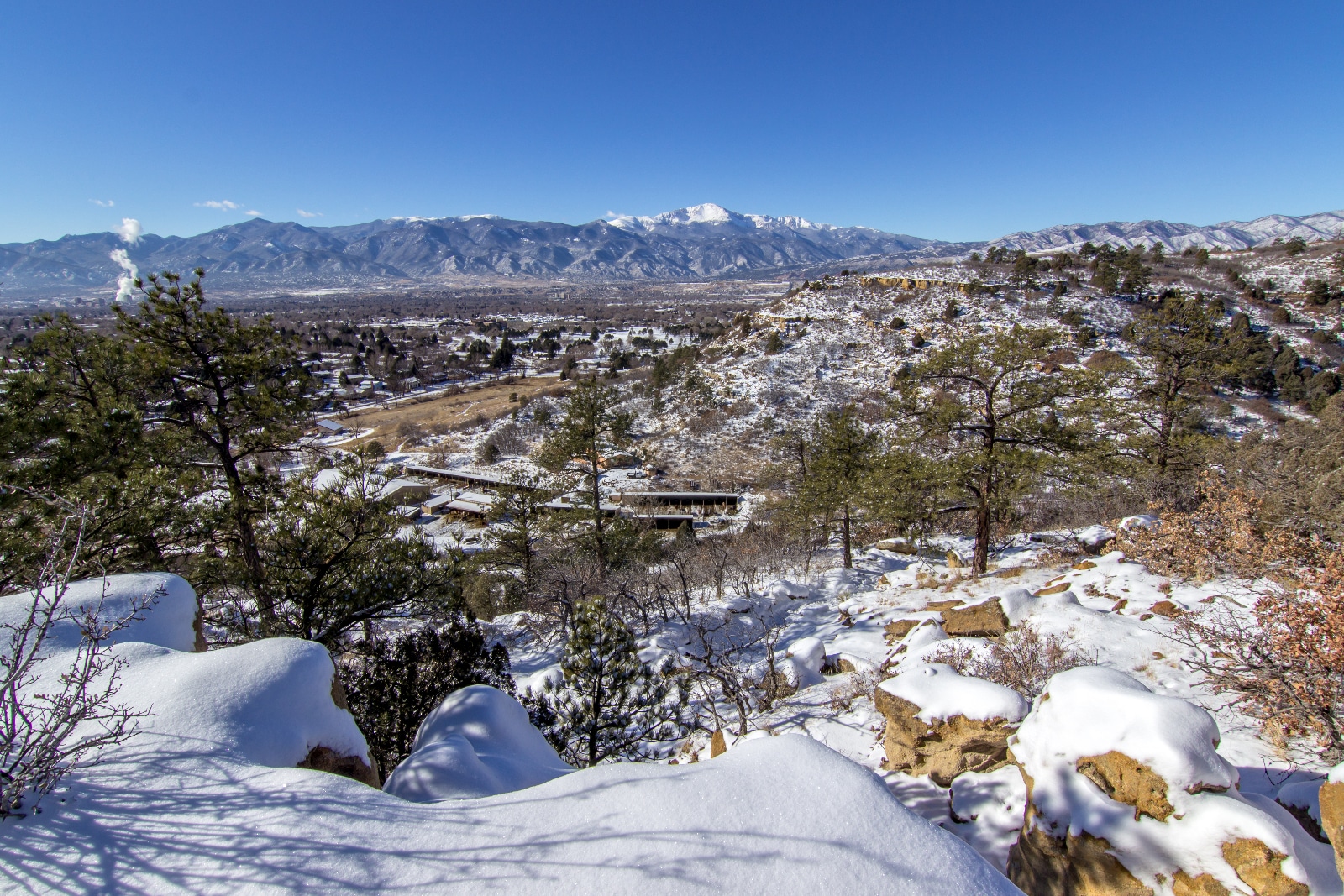 Snow blanketing Colorado Springs, CO. Photo: Joel Tonyan
5,994 feet/1,827 meters | Sitting beneath Pikes Peak (one of Colorado's fourteener mountains), Colorado Springs can get a little crazy in winter. For the most part, temperatures range from 17-45 degrees Fahrenheit (-8.3-7.2 degrees Celsius) from December to February.
However, the partly cloudy skies of winter mean that the temperature drastically fluctuates throughout the day with the bitter cold settling in at night.
Denver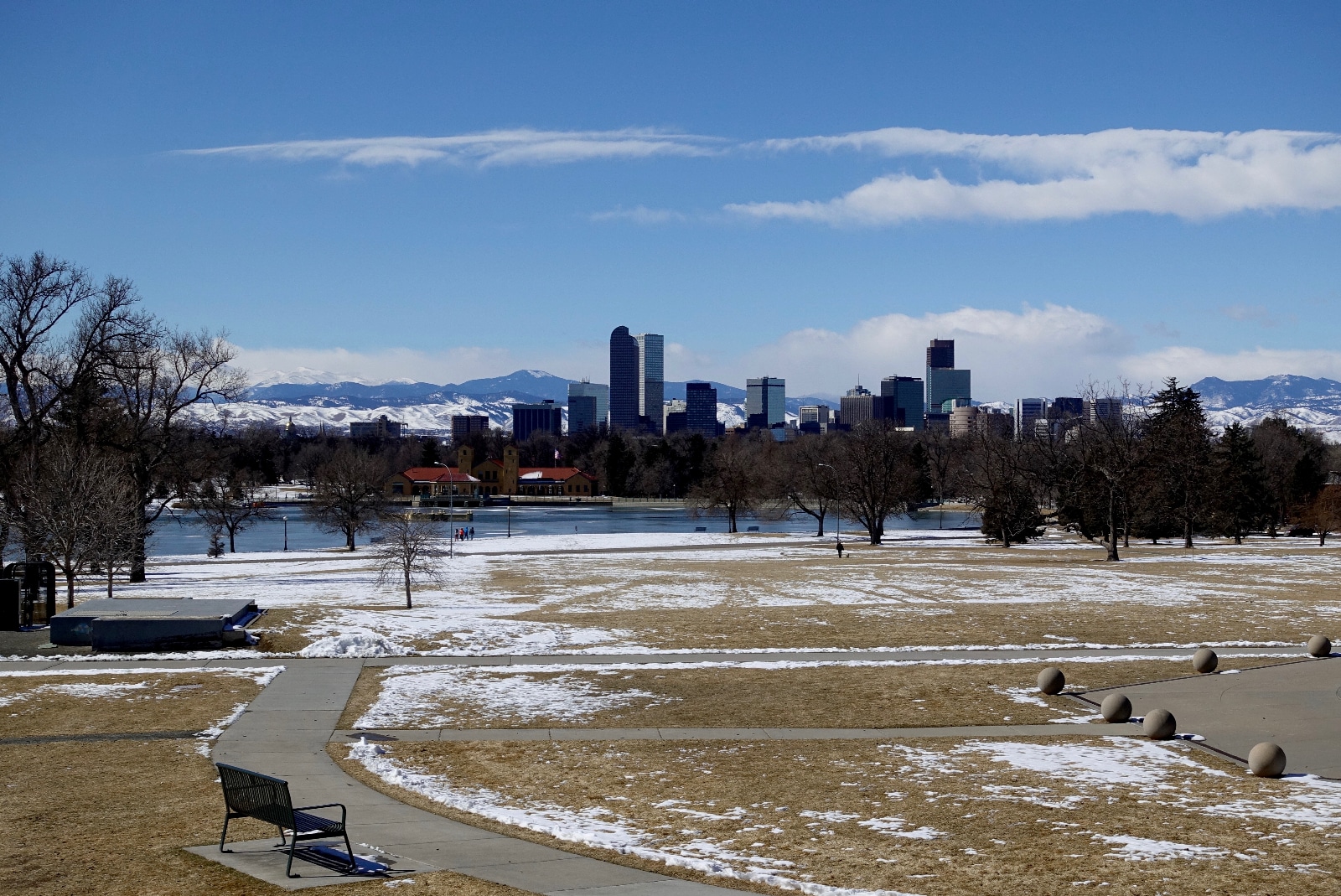 A sunny day during winter in Denver, CO. Photo: Emma Heirendt
5,280 feet/1,609 meters | In Colorado's capital, Denver, there are certainly frigid days but overall, winter is quite mild. From December to February, the temperatures average from 19-49 degrees Fahrenheit (-7.2-9.4 degrees Celsius).
However, it is not uncommon to have even warmer days in the heart of winter. Sometimes, temperatures in December can reach 60+ degrees Fahrenheit (15.5+ degrees Celsius).
The coldest day ever recorded in Denver, Colorado was -25 degrees Fahrenheit (-32 degrees Celsius) on December 22nd, 1990.
Durango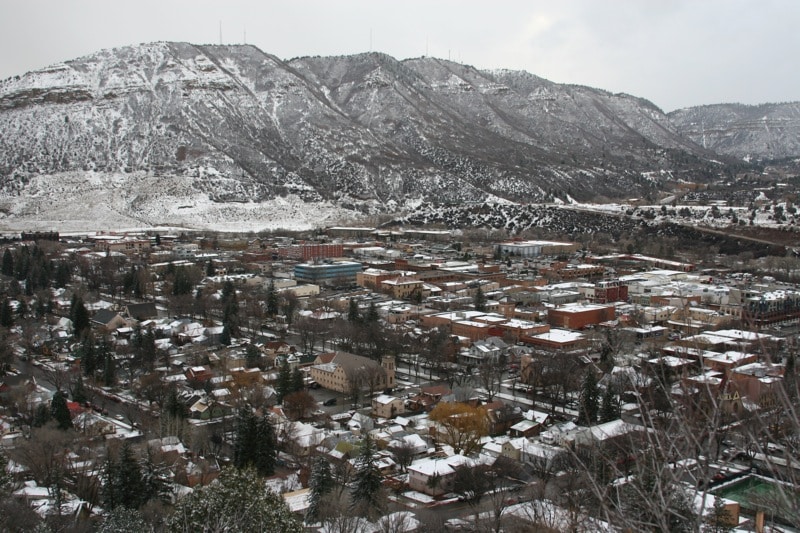 Snow season in Durango, CO. Photo: Angela McCallum
6,522 feet/1,988 meters | Nestled in the La Plata Mountains, a branch of the San Juan Mountain Range, is Durango, Colorado. With the city surrounded by tall peaks, the actual town of Durango is set in the valley.
With a slightly lower elevation than the nearby peaks, average winter temperatures in Durango range from 11-46 degrees Fahrenheit (-11.6-7.7 degrees Celsius) from December to February.
Fort Collins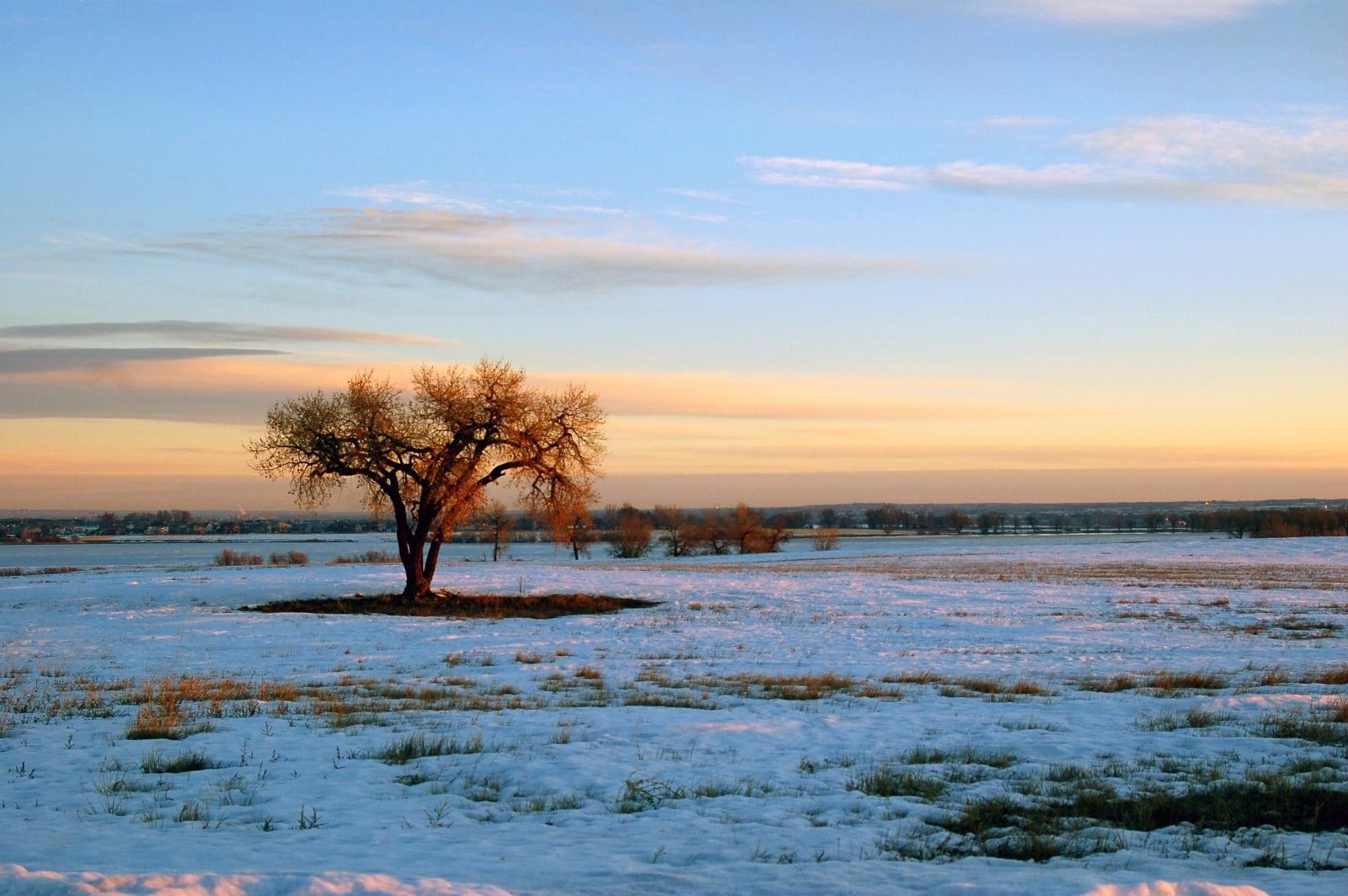 Winter landscape in Fort Collins, CO. Photo: Michael Fajardo
5,003 feet/1,525 meters | Located in Northern Colorado, Fort Collins can see snow as early as September. However, even with the early snowfall, average winter temperatures in the city are quite warm making the winter climate sunny and mild.
From December to February, temperatures in Fort Collins range from 17-47 degrees Fahrenheit (-8.3-8.3 degrees Celsius). Usually, December is the coldest and snowiest month in the city.
Grand Junction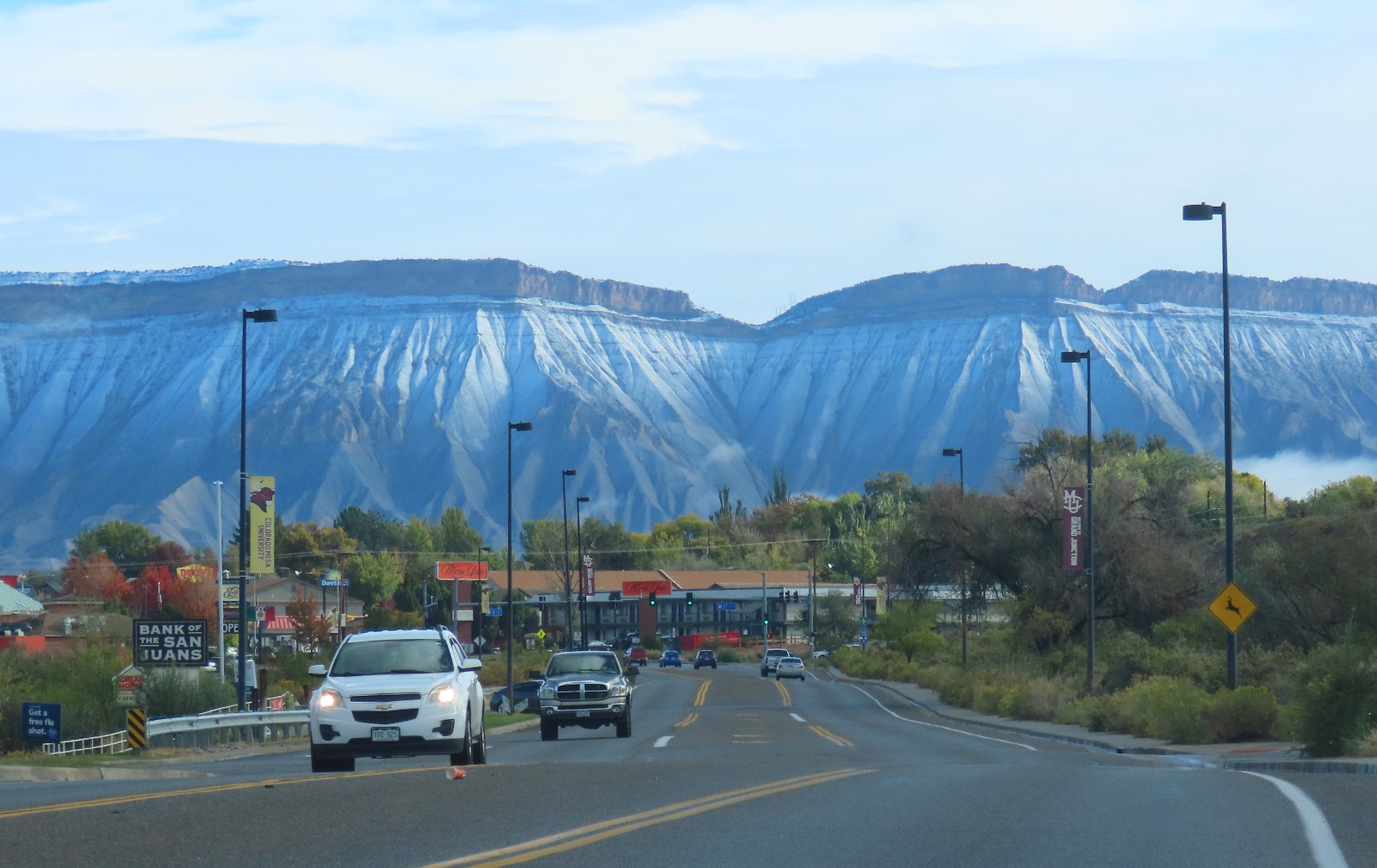 A light dusting of snow in Grand Junction, CO. Photo: jcsullivan24
4,583 feet/1,397 meters | Located on the Western Slope, Grand Junction is one of the warmest cities in Colorado. Very little snow falls in Grand Junction and when it does, it typically doesn't stick around for very long.
With very mild winters, bitterly cold days aren't too common in Grand Junction. Usually, the lowest average temperature is 18 degrees Fahrenheit (-7.7 degrees Celsius), while the highest average temperature is 46 degrees Fahrenheit (7.7 degrees Celsius).
Hugo

Downtown Hugo, CO. Photo by: Ammodramus
5,039 feet/1,536 meters | On the Eastern Plains, Hugo is a small town that tends to have mild winters. However, the temperatures can feel a lot colder at times because of the strong winds that pick up as they pass from the Rocky Mountains to the Great Plains.
On average, the winter temperatures range from 11-47 degrees Fahrenheit (-11.6-8.3 degrees Celsius) from December to February. December is the coldest month, but with sunny weather, temperatures can get as high as 50 degrees Fahrenheit (10 degrees Celsius).
Pueblo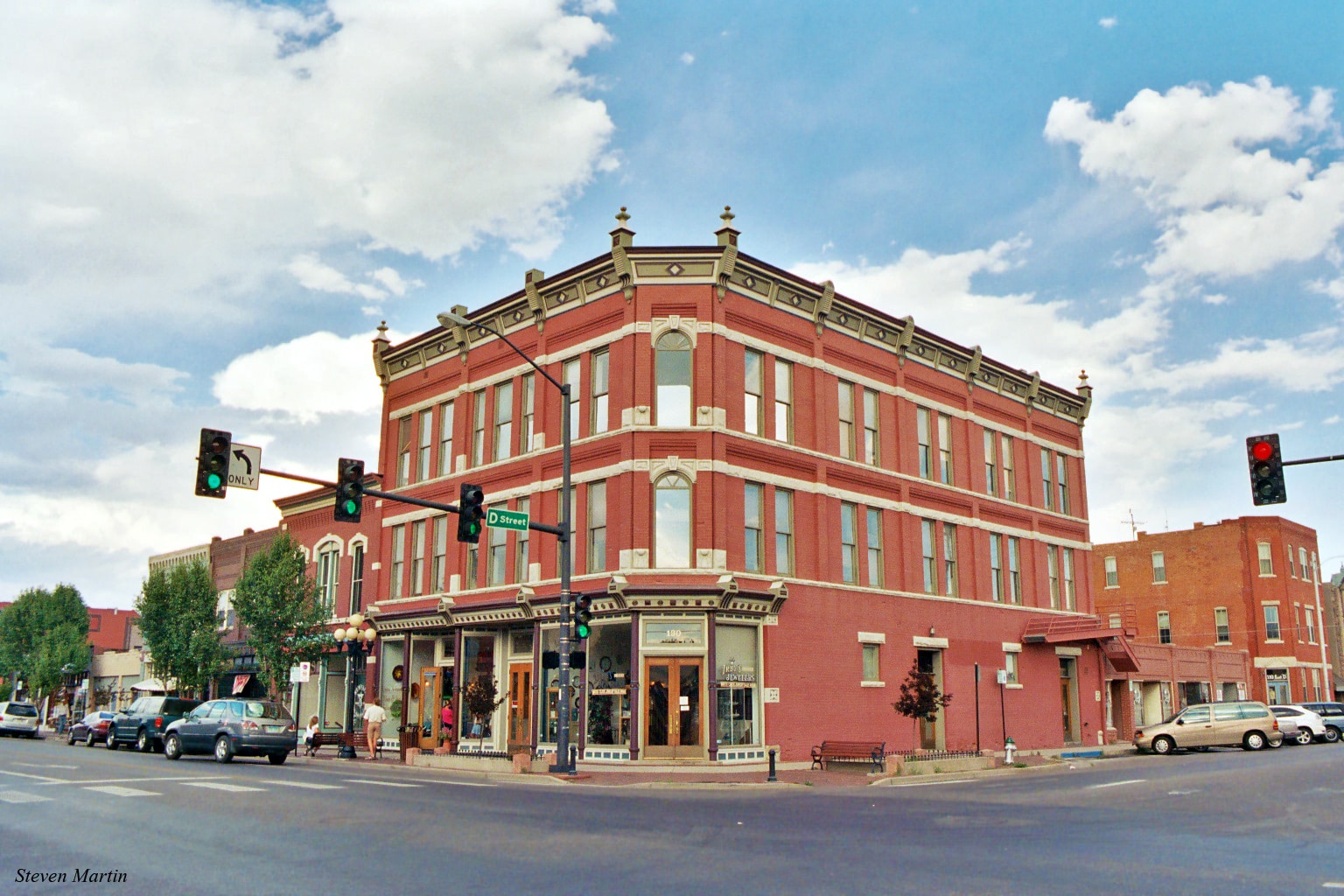 Gold Dust Block, Pueblo, CO. Photo by: Steven Martin
4,692 feet/1,430 meters | Being in Southern Colorado, Pueblo has some of the mildest winters on the Front Range. The dry, desert climate makes it hard for snow to stick and on average, the city receives just 25 inches of snow each year.
Temperatures in Pueblo from December to February average around 12-51 degrees Fahrenheit (-11.11-10.5 degrees Celsius). Pueblo's lower elevation protects the city from the worst of the cold and only rarely do temperatures drop lower than 5 degrees Fahrenheit (-15 degrees Celsius).
Steamboat Springs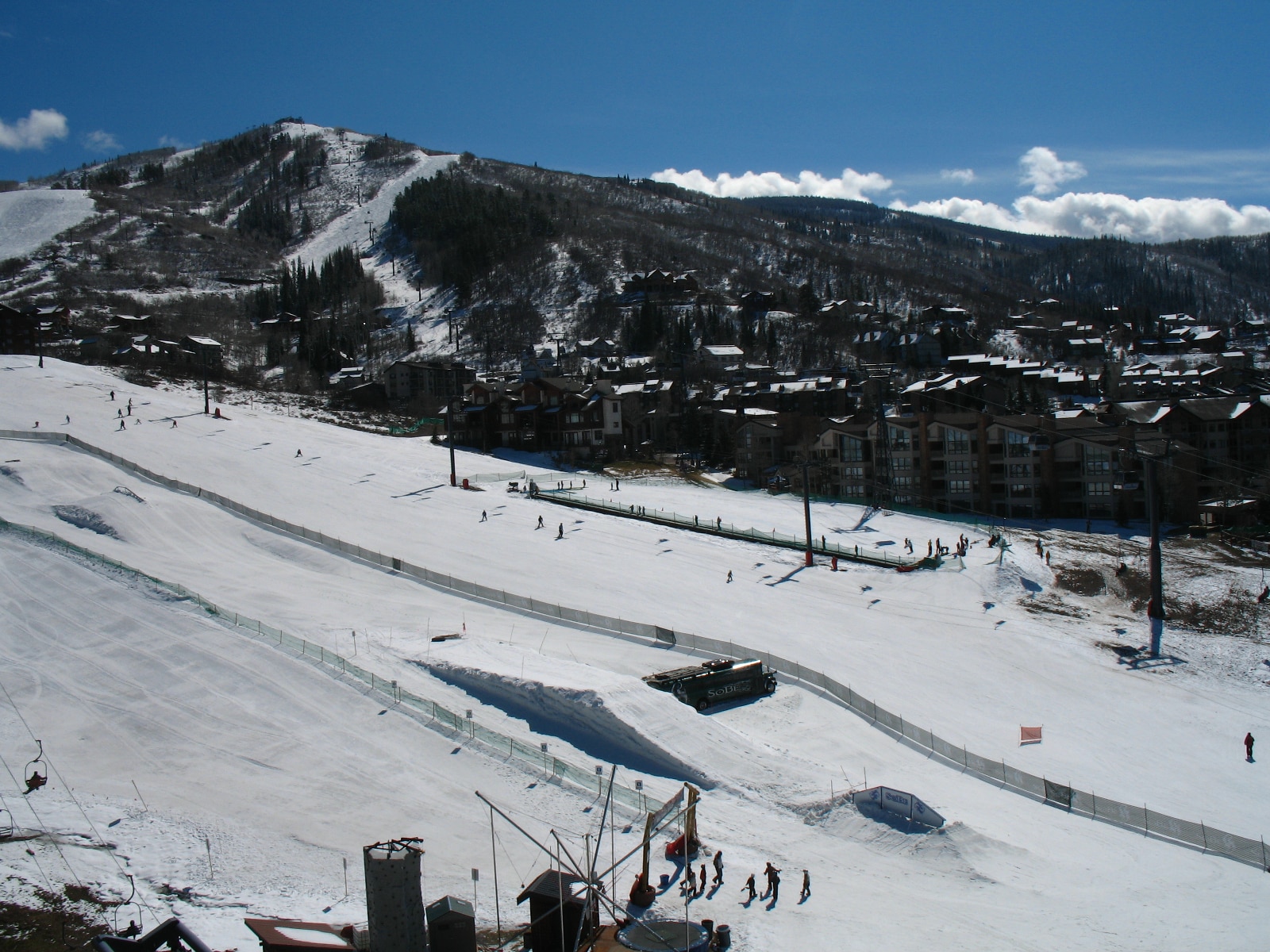 Snow slopes in the ski resort town of Steamboat Springs, CO. Photo: Dalton
6,732 feet/2,052 meters | Steamboat Springs is a famous ski resort in Northern Colorado. With plenty of snow on the mountains above the valley, the actual town of Steamboat Springs tends to have slightly warmer temperatures. However, the town is still cold and temperatures can regularly drop below 16 degrees Fahrenheit (-8.8 degrees Celsius).
From December to February, the low and high average temperatures in Steamboat Springs range from 3-34 degrees Fahrenheit (-16.11-1.11 degrees Celsius). January is typically the coldest month in Steamboat Springs.
Sterling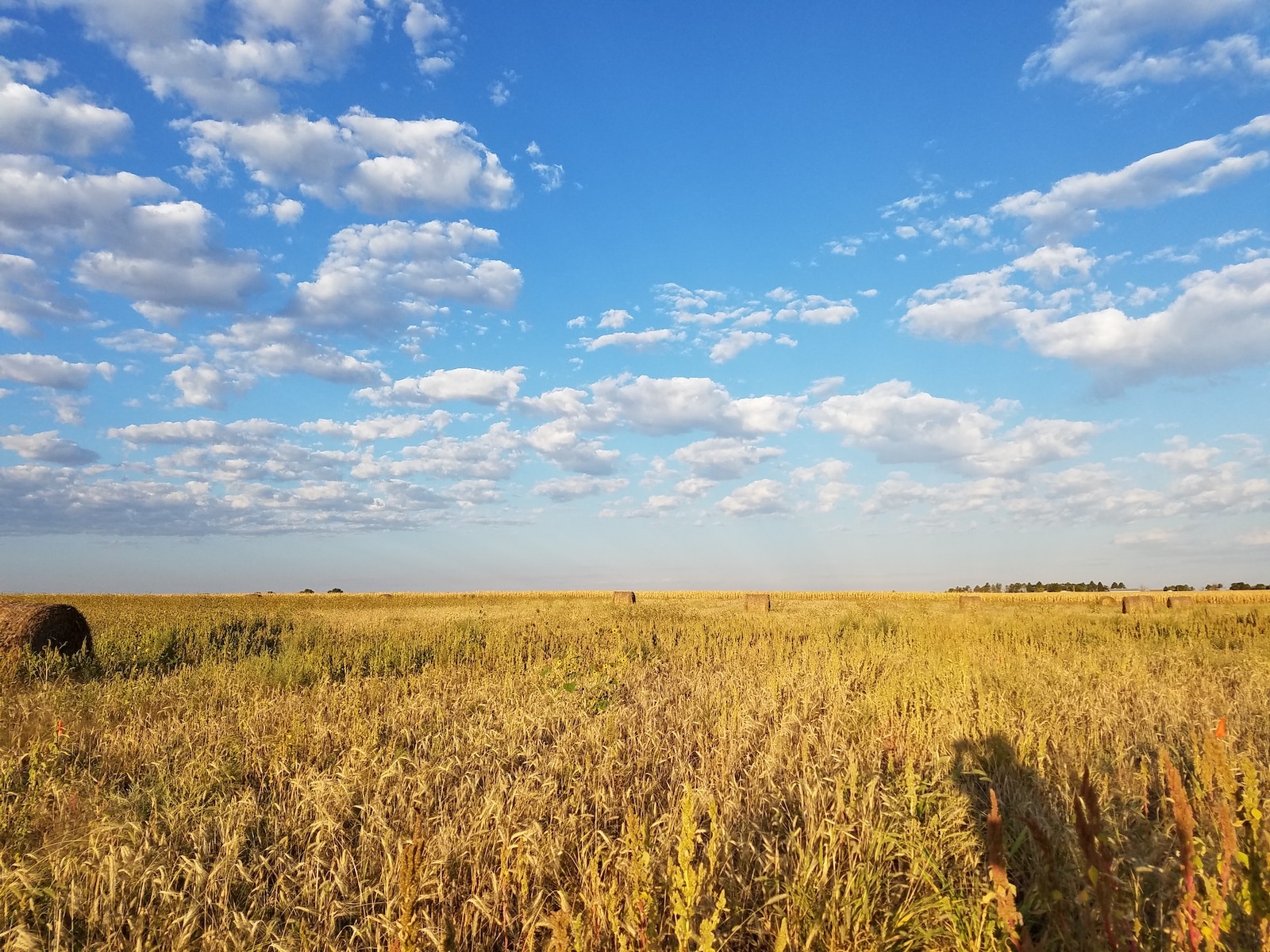 Farm in Sterling, CO. Photo by: NEON Science
3,875 feet/1,181 meters | Similar to Hugo, Sterling's location on the Eastern Plains means that winters are usually quite mild. Compared to the rest of the state, the city has a very low elevation, which means that during a normal year, temperatures will hover between 16 and 46 degrees Fahrenheit (-8.8-7.7 degrees Celsius) from December to February.
Trinidad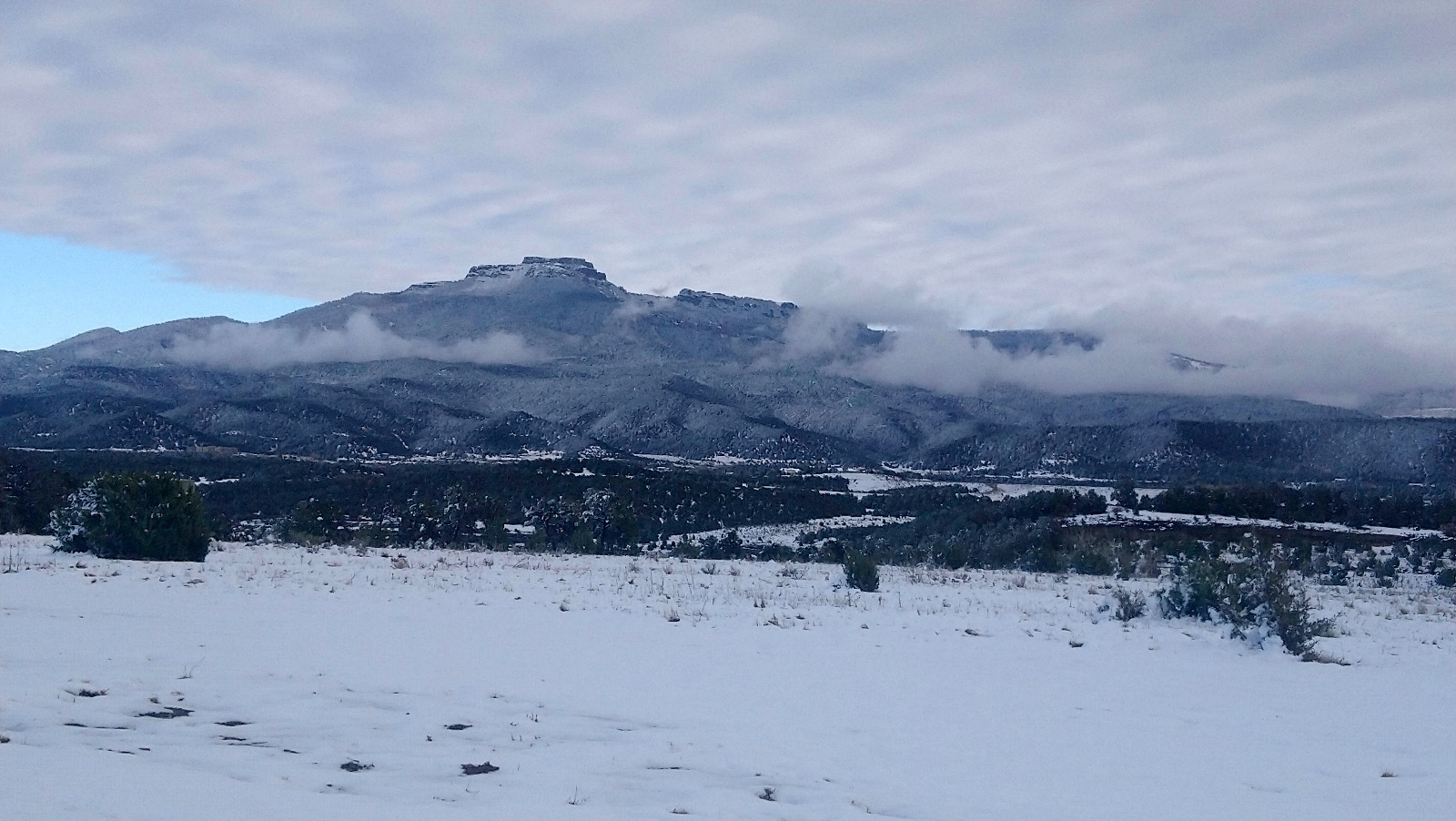 Snow-covered peaks outside of Trinidad, CO. Photo: U.S. Army Corps of Engineers
6,010 feet/1,832 meters 19-52 | Trinidad is a small city close to Colorado's border with New Mexico. With a unique landscape that sits somewhat elevated, its far southern location stops winter from being too bitterly cold.
Typically, winter temperatures in Trinidad range from 19-52 degrees Fahrenheit (-7.2-11.11 degrees Celsius) from December to February. Very rarely, temperatures can drop below 6 degrees Fahrenheit (-14.4 degrees Celsius).
Changing Climate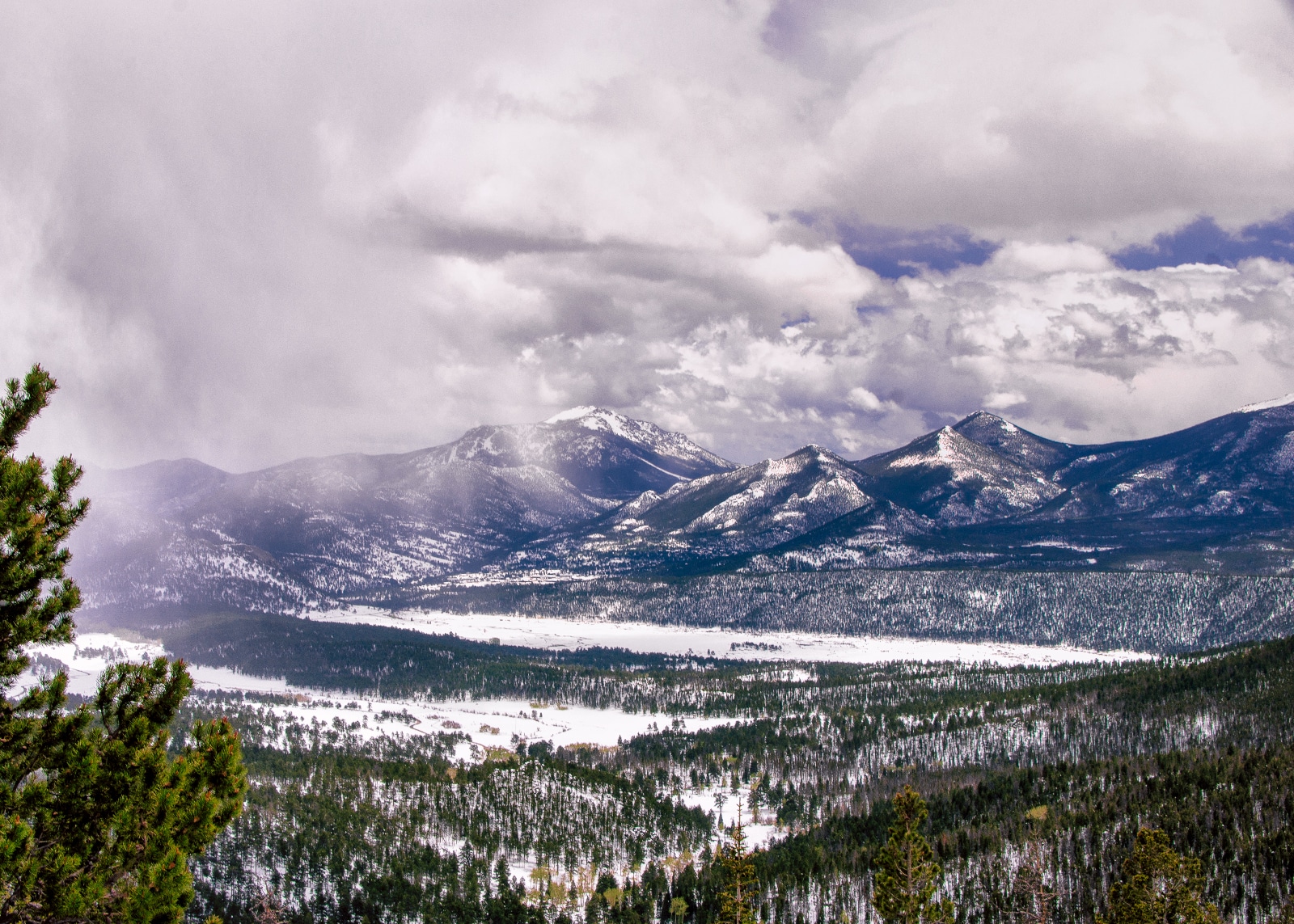 Winter landscape by Sprague Lake, Rocky Mountain National Park. Photo: enjoiskate8
The climate is changing all around the world and in Colorado, the rising temperatures mean less snow, an even drier climate, and hotter summers. With climate change, it isn't odd to have warm, sunny days during the coldest months. Weather changes are also happening more dramatically with wind, snow, and sun all possible in a single winter day.
Whether experiencing a mild winter or facing some frigid temperatures, Colorado is a state that people love no matter the weather. Even with the cold, winter changes the landscape in Colorado and enhances the beauty of the Rocky Mountains.
With more than the scenery to enjoy, winter is a great time to partake in outdoor activities like skiing, snowboarding, snowshoeing, hot springs, and sledding.
Knowing what to expect when visiting Colorado during the cold months will ensure that you pack what you need and have the best time exploring the state's Rocky Mountains and bustling front range urban corridor.